About Infineon Technologies
Infineon Technologies AG is a leading semiconductor manufacturer, providing a wide range of solutions, including microcontrollers, power management, sensors, & security chips. Infineon is known for its expertise in IoT, automotive, and industrial electronics, and its chips are used in a variety of applications such as electric vehicles, power supplies, and smart home devices.
Infineon is committed to sustainability and has set ambitious goals to reduce its carbon footprint and contribute to making the world better, easier, safer, and greener with its products and solutions.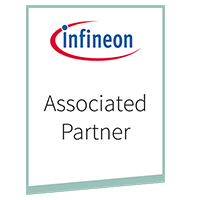 VOLANSYS - An Infineon Associated Partner
VOLANSYS, as an Infineon Associated Partner, has expertise in developing custom solutions using various Infineon next-generation chipsets for large enterprises and OEMs. Our capabilities in understanding the industry's needs and experience with the latest wireless protocols, such as Matter, Wi-Fi, BLE, etc., helped us deliver the solution at a faster time-to-market.
Being an engineering service provider, we take care of end-to-end solutions, including hardware prototyping, PCB development, BSP, embedded software, and application design. Combining VOLANSYS and Infineon capabilities in the areas of connectivity, touch sensors, HMI, power electronics, and sensors, helps us deliver an innovative, holistic solution to our end customers.
Leveraging Infineon EVKs, MCUs, sensors, RF modules, and other components for diverse OEMs, the experts at VOLANSYS have worked on several devices, such as:
Helped in building custom, secure, and scalable IoT solutions for different industries such as consumer electronics, home automation, etc. that address a wide range of challenges and give them a competitive edge in the market
End-to-end product engineering services, starting from concept to manufacturing, we designed and delivered next-generation products for a variety of industries using Infineon products/platforms
We provided complete embedded engineering services, including firmware development, app/ OS porting/ hardening, system optimization, and peripheral component integration
Comprehensive hardware design services to build scalable and reliable hardware designs, develop custom hardware boards/platforms, performance optimization, BOM optimization & ROM estimates, certification & compliance
Experience with various industry standards and protocols such as Matter, OpenThread, Wi-Fi, Zigbee, Thread, Z-Wave, proprietary IEEE 802.15.4, Bluetooth Low Energy (BLE), sub-1 GHz, 802.11 a/b/g/n, 802.11 AC, NFC, etc.
Mechanical Design Engineering


Prepare various mechanical setups to demonstrate the machine learning capabilities of their overall offerings, including MCUs, sensors, etc.
Design, develop and integrate a full-fledged, high-quality connected mobile application, ensuring smooth user experiences across all modern platforms and devices
Product Engineering Services
VOLANSYS offers end-to-end/turn-key product design, development & validation services–Hardware Selection, Board Design, Custom Embedded Software, Drivers, Porting/Migration, Connectivity, Performance Optimization, QE, Certification, Manufacturing
US-based leading company providing complete home water leak detection solutions The client wanted to develop a low-power gateway solution that can com