Machine to Machine communications is all set to transform the execution of many industries, enterprises, and services. It has initiated automation and intelligence to the end devices in a way that has never been possible before.
Machine to Machine communications, majorly known as "M2M" is going to play a big role in the Internet revolution that is connecting devices to a greater extent and making them talk to each other.
What is Machine-to-Machine (M2M)?
M2M communications is basically a concept where a machine or a device gets connected through a network and communicates. Sensors and communication modules included in M2M devices that enable data transmission between devices across wired and wireless communications networks. M2M is also the base for the IoT (Internet of Things). It can result in significant, measurable social and economic advantages, by providing better effective services to the citizens.
M2M technology was initially presented and put into use among smart home, manufacturing and industrial environments, where technologies like SCADA and remote monitoring were already in use and managing and controlling data from equipment remotely. M2M is being used in a wide range of sectors, including business, insurance, and healthcare. Additionally, it may be used for heavy machinery like hand drills, tractors, irrigation systems, and for conveyor belts in factories.
"In 2020, there were 8.9 billion machine to machine (M2M) connections globally. That was a 20 percent increase from 2019. The forecasted compound annual growth rate of connections from 2018 to 2023 is 19 percent. According to the source, by 2023, there will be 14.7 billion M2M connections worldwide." – Statista
Using wired or wireless communication channels, M2M is a technique that enables straightforward, direct communication between devices. It gathers the data and sends them to the other connected devices. It is a technology that makes it possible to connect things together without the need of the internet as well.
Monitoring and tracking household devices, manufacturing equipment and facility management are just a few of the many uses for M2M communications. Machine-to-machine communication is the verbal exchange of information between two machines without human involvement. M2M verbal communication is easier with wireless connectivity, and more devices can now be connected.
The primary goal of machine-to-machine communication was to collect sensor data and send it via a network. In contrast to SCADA or other remote monitoring tools, M2M systems leverage open networks and access techniques, including cellular or Ethernet, to make them more affordable.
The core elements of an M2M system are sensors, RFID, Wi-Fi or cellular communications, and autonomic computing software. These are designed to assist a network device in interpreting data and making choices. Then the M2M applications translates the data, which can start predefined, automatic activities.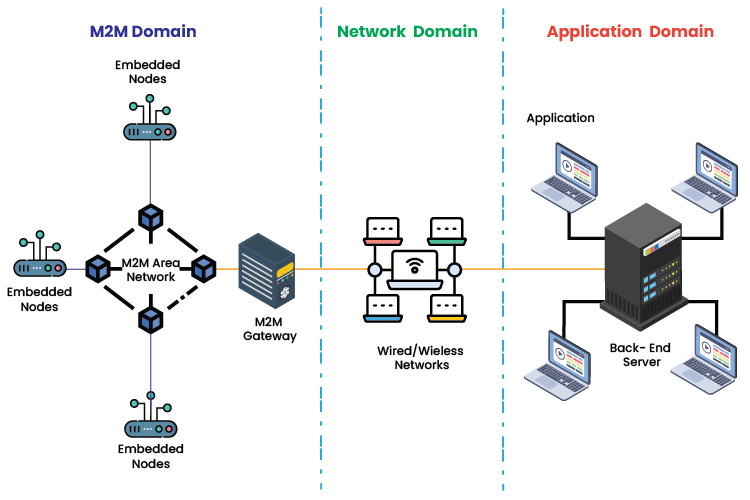 One of the most well-known methods of machine-to-machine communication is Telemetry. It has been used to send operational data since the turn of the past century. Telemetrics pioneers used telephone lines, then radio waves, to send performance measurements they gathered from monitoring instruments from remote locations.
Telemetry is now used in devices like heaters, electric meters, and internet-connected appliances on a daily basis. This is thanks to the Internet and better wireless technology standards. Telemetry was only used for industries like manufacturing and engineering. The main advantage of M2M is to track and communicate with devices and systems.
By reducing equipment maintenance and downtime, you can:
cut expenses;

increase income;

enhance customer experience; and

monitor and maintain equipment before it breaks down or only when needed to
Promising Use Cases of M2M
Industrial IoT: M2M enables billions of devices with embedded technology to connect, be managed, and securely communicate across the network, industries are entering a new era. The phrase "Industrial IoT" refers to machine-to-machine (M2M) interactions, or the interaction and communication between machines and other objects, surroundings, and infrastructures.
Using components with extremely low energy consumption, which are easy to install, and are based on industry standards, the M2M is described as the automatic interaction between smart devices and systems, transmitting data to an offsite or cloud-based solution for relevant, time-sensitive analytics.
Medical/Healthcare: Connected gadgets have improved convenience while also enhancing security in our environment. In the medical industry, where effective data gathering techniques paired with quick data transfer technologies may save patients' lives, M2M applications are particularly widespread. 24/7 monitoring might be crucial for those with diabetes or heart disease. IoT and M2M capabilities are becoming more and more common in gadgets, which helps advance medical procedures.
Connected Automobiles: One of the largest industrial industries in the world is the automobile industry. It is also quite competitive because there are an estimated one billion motor vehicles in use worldwide. Therefore, many manufacturers are moving forward to connected technology to segregate their fleets.
According to Statista, in 2021, there were about 84 million connected cars on the roads in the United States. Their number is expected to surpass 305 million in 2035, making the United States the biggest market for connected vehicles.
Machine to machine connected solutions provide limitless possibilities to improve driver experience, maintenance, and safety. It helps manufacturers in enhancing entertainment systems, telematics, preventative care, and avoiding accidents. Along with location services, value-added services, and direct, affiliate, and affinity marketing, it also benefits them with new revenue opportunities.
Vending Machine: Connected vending machines are a primary illustration of how M2M communication may optimize operations in the most surprising circumstances.
Users may access well-stocked corner stores at any time of day or night, no matter how close they are or how much larger these networked devices are than typical vending machines. Even fresh fruit or chilled freight can be delivered by such cutting-edge machines.
The majority of individuals nowadays own many linked devices personally. The most prevalent items are smartphones, tablets, smart TVs, PCs, and in-car navigation systems in personal automobiles. Consequently, real-time data can be accessed. If a user wants to check the weather, the traffic, or something a bit more complicated, like how many steps they have walked today, they can check that. Thanks to applications that can understand precise data from a phone or a smartwatch, M2M apps are becoming an essential part of our life.
VOLANSYS has proven experience in connected technology and service offerings that helps the client in developing a next-generation solution. As a one-stop solution provider, we excel at every level, from idea to design, development, and testing, to justify the constantly growing demands of our clients. To know more about our experience and expertise, you can check out our success stories. For more details, feel free to contact us.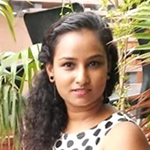 About the Author: Nilima Shah
As a Senior Marketing Executive at VOLANSYS, an ACL Digital Company, Nilima has a demonstrated history of working in information technology and services, whose passion is to shepherd innovative ideas through the content development to get solutions or services marketed.