Wi-Fi has optimized the use of available unlicensed spectrum to deliver efficient and reliable connectivity of 2.4 GHz and 5 GHz bands. Building a strong Wi-Fi momentum, the Wi-Fi Alliance has introduced its new Wi-Fi 6E which will extend and strongly advocates the capability of Wi-Fi 6 with a 6 GHz band. This move from Wi-Fi will unlock the potential of Wi-Fi 6 with some additional features which will deliver the next-generation solutions.
According to the research report by a director at IDC, it is expected that 338 million devices will enter the market by 2021 and 20% of the Wi-Fi 6 devices will be supporting 6 GHz by 2022. Last year, a decision was announced by the U.S. FCC to open a 1200 MHz of 6 GHz spectrum for Wi-Fi and some other countries like the U.K., Brazil, Argentina, and South Korea also made their decision to deliver 6 GHz devices.
Importance of New 6 GHz Wi-Fi Spectrum
Wi-Fi conveys additional internet traffic as compared to other wireless technology and is achieved despite having not more than 300 MHz of unrestricted spectrum available. The usage and demand of Wi-Fi networks increasing drastically while available unlicensed spectrum i.e., bandwidth remains unchanged. There are only three 20 MHz wide non-overlapping channels available in 2.4 GHz and not only used by Wi-Fi but also other wireless technologies such as Bluetooth, Microwave, ZigBee, etc.
In 5 GHz, there are 25 channels that can remove the spectrum obstacles but the usable amount in 5 GHz is less and only 16 are Dynamic Frequency Selection (DFS) channels which are used by radar and utilize the same frequency. The Wi-Fi AP (Access Point) should monitor the presence of radar signals continuously.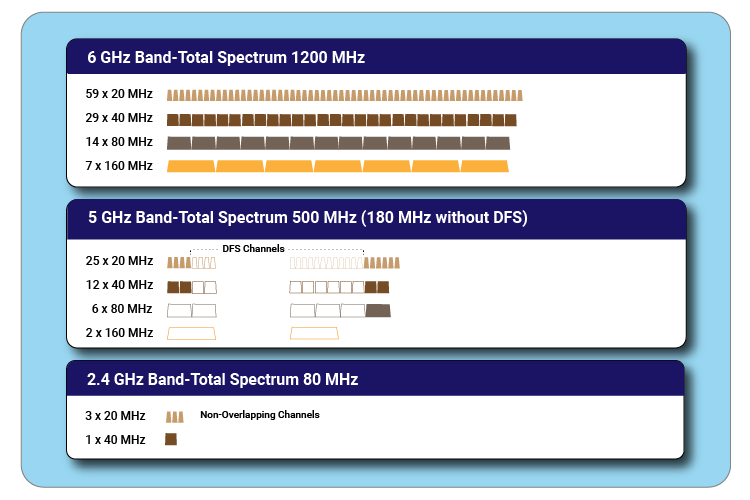 In 5 GHz, there are 25 channels that can remove the spectrum obstacles but the usable amount in 5 GHz is less and only 16 are Dynamic Frequency Selection (DFS) channels which are used by radar and utilize the same frequency. The Wi-Fi AP (Access Point) should monitor the presence of radar signals continuously.
Comparing 2.4 GHz and 5 GHz, the 5 GHz is faster and has more channels than 2.4 GHz but since Non-DFS channels are limited, it compels users to share available bandwidth that causes congestion. The legacy devices (802.11b/g/n) need more air time to transmit data, thereby less throughput and increase latency for all users. The congested environment becomes a barrier to enable the 80 MHz or 160 MHz channels, which comes up restricting higher throughput that can be achieved only with the wide channel bandwidth, that's where 6 GHz reflects. Taking advantage of the 1.2 GHz of new Wi-Fi spectrum, Wi-Fi 6E provides greater speeds, guaranteed low latency, and high capacity for cutting-edge devices.
Advantages of Upgrading Network with Wi-Fi 6E
The 6 GHz full-spectrum is 1200 MHz wide and has access to 59 20MHz channels. These can be divided into 29 the 40 MHz channels, 14 the 80 MHz channels, or 7 the 160 MHz channels. Also, Wi-Fi 6E devices support the latest version of Wi-Fi security i.e., WPA3.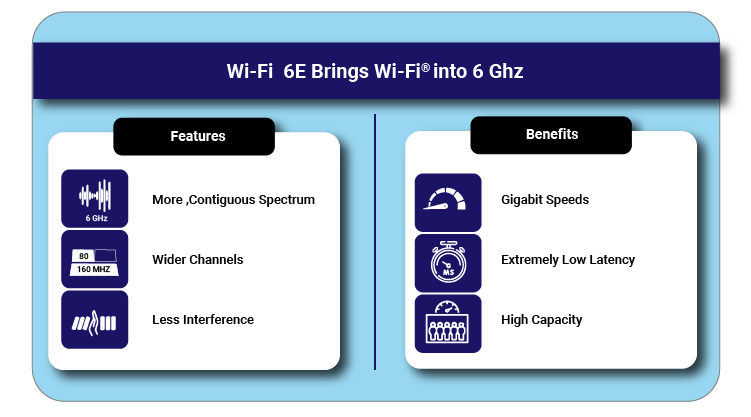 The most advantages that Wi-Fi 6E furnishes are the greater spectrum, lower latency, reduced congestion, and overhead, enabling the full performance of Wi-Fi 6 technology. Let's talk about the key features of Wi-Fi 6E:
160 MHz channel bandwidth that increases bandwidth for extraordinary performance with lower latency
OFDMA enables sharing of channels that improve network efficiency
Downlink multi-user MIMO that enables AP to transmit data to a larger number of devices at the same time
Target Wake Time (TWT), an import feature for the Internet of Things (IoT) devices that make better use of battery life
1024-QAM (Quadrature Amplitude Modulation) mode encoding a larger number of data bits and helps to increase throughput by ensuring the quality of service in locations that have a high concentration
Therefore, Wi-Fi 6E uses the less dense 6 GHz band to make applications that are capable of using high bandwidth and require high-speed data throughput as well as low latency connectivity.
Few protocols for operation in the 2.4 GHz, 5 GHz, and 6 GHz bands defined by IEEE 802.11ax HE standard are stated below:
The HE (High Efficiency) only operation allowed for AP and stations in the 6 GHz band, indicates that the device is not allowed to transmit 11n i.e HT, 11ac i.e VHT, 11b i.e HR/DSSS,11g i.e ERP-OFDM, or DSSS PPDU
Optimizing the station's scanning mechanism to cover 1200 MHz of spectrum and reduce profligate management frame traffic. Making complete use of the 6 GHz band for the scanning, beaconing, and probing mechanism are being defined
Allocations of channels are executed by the 11ax standard but the channels which are not supported in the regulatory domain can not be used, as the regulatory domain standard takes elementary over the IEEE standard
Key Challenges of Designing Wi-Fi 6E Network
Wi-Fi 6E brings its own set of challenges for enterprises or operations looking to upgrade their network. Let's have a look at the challenges:
Obtaining permission from regulatory compliance bodies for more spectrum to make Wi-Fi 6E devices available to users is a very difficult and massive step, as with the new band there are new test requirements that need to be fulfilled. Also, shaping the equipment capable of supporting the Wi-Fi 6E features, brings more challenges
Even though the 6 GHz band is slightly above the 5 GHz, but overcoming the obstacle of the 6 GHz band for RF equipment is a major part. Until today, consumer devices only support frequencies up to 5.9 GHz with generic connectivity technologies like cellular, Wi-Fi, Bluetooth, and to provide support of 6 GHz, make an impact on the complete product life cycle
Wi-Fi 6E devices need to fulfill steady and continuous performance over the frequency range which is almost double the range of 2.4 GHz and 5 GHz bands. This delivers extra challenges in designing the product, especially the RF front end, as it requires steady performance throughout the width of the entire spectrum and good linearity of the low noise amplifiers/power amplifiers consumed to cover the 6 GHz range
However, Wi-Fi 6E OFDMA and TWT are the most powerful features that enable huge improvements in battery life that perform an important role in IoT and Industrial IoT (IIoT) 4.0. Considering the features and benefits of Wi-Fi 6 into the 6 GHz band will bring enormous opportunities for the enterprises, operations, and evolve the overall performance of the device.
Being a one-stop solution enabler, VOLANSYS delivers powerful immersive experiences in the era of wireless connectivity. Read our success stories to know in detail, how we help our clients in designing and developing the next-generation wireless connected solutions.
Also, read our blog on the Wi-Fi technology written by our experts or connect with our team for the consultation.
Note: The content of this blog is based on the personal knowledge of any research work done by the individual. The market research report on Wi-Fi 6E is used from the Wi-Fi Alliance newsroom.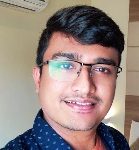 About the Author: Chirag Patel
Chirag is working as a Principal Firmware Engineer at VOLANSYS Technologies having 7 years of experience. He is a passionate solution provider and has experience in various wired and wireless protocols, Linux and RTOS application development as well as hardware development and troubleshooting.