The internet has become an indispensable part of our daily lives, and Wi-Fi plays a crucial role in keeping us connected for communication, streaming, gaming, and more. As our needs have grown, Wi-Fi has evolved to meet the demands. However, with the rise of IoT and M2M applications, there's a need to reshape Wi-Fi, giving rise to Wi-Fi HaLow (IEEE 802.11ah), the latest wireless standard designed specifically for IoT.
Wi-Fi HaLow operates on low power, covers longer distances and can penetrate walls effectively, making it a perfect fit for smart homes, industrial markets and smart cities. Its lower power consumption also makes it ideal for wearable devices, factory automation and various IoT/IIoT devices.
In this blog, we will explore the advantages of adopting Wi-Fi HaLow, conduct a comparative analysis of RF connectivity with Wi-Fi HaLow and examine the diverse applications where Wi-Fi HaLow excels.
Advantages of Developing IoT Solution with Wi-Fi HaLow
WiFi HaLow is pretty close to being the IoT wireless standard offering the best combination of power consumption, range, throughput, and deployment costs. Let's have a look at each one of them in detail:
Low Power Consumption:

Wi-Fi HaLow has comparatively increased the energy efficiency over other low-power LAN/WAN technologies. The effective power saving leads to a multi-year battery operation. As power operation requirement is low, the coin cell battery operation supports less current consumption
Long Range and Robustness:

The narrowband signals (Sub-1 GHz) travel farther using less energy compared to 2.4 GHz signals, therefore, providing the longer range. It also provides a minimum 10 dB link budget advantage over 2.4 GHz Wi-Fi and more than 1 km reach can be achieved for higher amplified connections with associated design
IP Networking Capability: As Wi-Fi HaLow is complying with IEEE 802.11ah international standard, it has native IP support and does not require further conversion gateways. The high data throughput supports UDP, TCP/IP, and IP-based discovery protocols
Data Rates and Security: According to Wi-Fi Alliance, the measured support data is 150 kbps to 86.7 Mbps, and the latest security standards are supported as per other Wi-Fi technologies like Wi-Fi certified WPA3, Wi-Fi certified enhance open based on Opportunistic Wireless Encryption (OWE), and also provide support for Wi-Fi Easy Connect
Cost-Effectiveness:

As Wi-Fi HaLow is an unlicensed spectrum operation, no additional subscription fees are required. Proving to be cost-effective, the support will be provided to both, the private and controlled networks, over-the-air firmware upgrades enable and simplifies infrastructure without the need for complex meshes or repeaters
Device Capacity and Network Integration: Wi-Fi HaLow supports 8,191 devices per SSID based on the associate conditions. The native IP networking, including internet protocol version 6 (IPv6) also provides support and does not require any gateways or conversion boxes that do not interfere with pre-existing networks. Also, Wi-Fi HaLow can easily integrate with Wi-Fi network APs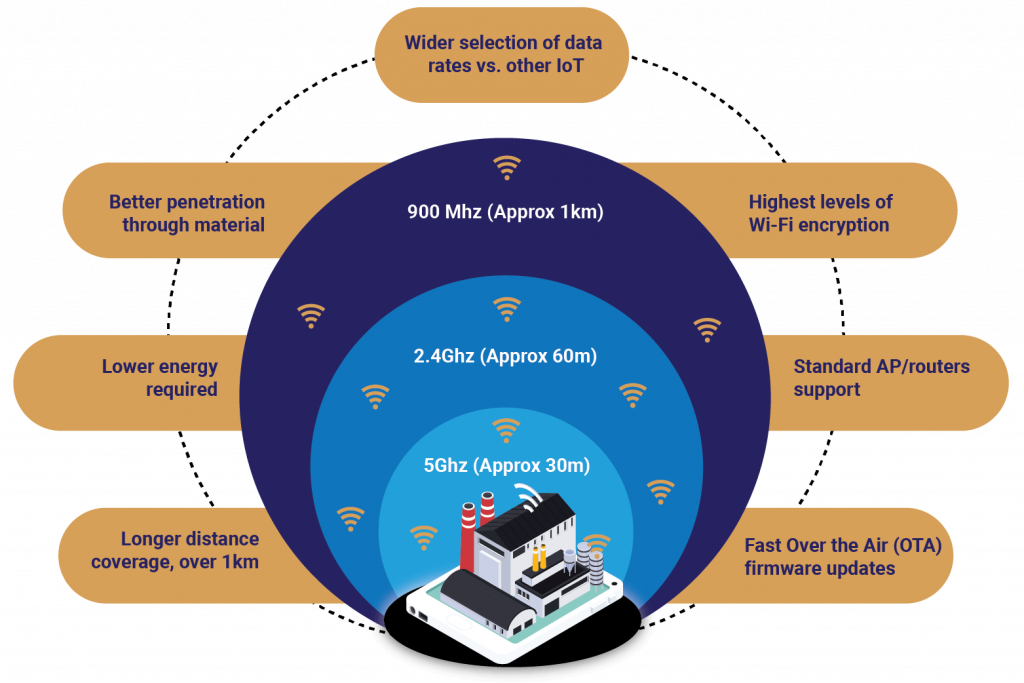 Which Components does Wi-Fi HaLow require?
To set up a Wi-Fi HaLow network, the following infrastructure components are required.
Access Points (APs): These are devices responsible for transmitting and receiving Wi-Fi signals, facilitating communication with smart home and IoT devices that adhere to the 802.11ah standard.
Wi-Fi HaLow Enabled Devices:

Devices such as smart home gadgets and IoT devices need to have Wi-Fi HaLow support to establish connectivity within the network.
Wi-Fi HaLow Enabled Gateway:

A router or gateway equipped with 802.11ah compatibility serves as a connection point for Wi-Fi HaLow devices to access the broader internet and network infrastructure.
Backhaul Connection: The backhaul connection, which can be either wired (fiber/Ethernet) or wireless (4G/5G, satellite, or even another Wi-Fi network), enables internet access and communication beyond the immediate confines of the local Wi-Fi HaLow network.
Network Management Software: This software is indispensable for tasks such as monitoring network performance, configuring settings and diagnosing issues within the Wi-Fi HaLow network.
Power Source:

Access points draw power from electrical outlets or via Power over Ethernet (PoE), while various devices, including IoT gadgets, rely on batteries or other alternative power sources.
Comparative Analysis of RF Technologies with Wi-Fi HaLow
| | | | | | | |
| --- | --- | --- | --- | --- | --- | --- |
| Attributes | Wi-Fi HaLow | Bluetooth Low Energy | Z-Wave | Zigbee | LoRaWAN | NB-IoT |
| Frequency | Sub-1 GHz | 2.4 GHz | Sub-1 GHz | 2.4 GHz / Sub-1 GHz | Sub-1 GHz | Licensed |
| Data Rate (bps) | 150 k – 86.7 M | 125 k – 2 M | 9.6 k – 100 k | 250 k | 300 – 27 k | 20 k – 127 k |
| Range (m) | > 1 k | < 100 | < 30 | < 20 | < 10 k | < 10 k |
| Modulation | OFDM over BPSK, QPSK, 16/64/256 QAM | GFSK | GFSK | BPAK/OQPSK | CSS | QPSK |
| Security | WPA3 | 128-bit AES in CCMode | Security 2 (S2) | 128-bit AES in CCMode | 128-bit AES in CCMode | 3GPP security |
| Subscription required | No | No | No | No | Yes | Yes |
| Network Topology | Star/Relays | P2P/Mesh | Mesh | Mesh | Star | Star |
| Open Standard | IEEE 802.11ah | Bluetooth SIG | Proprietary | IEEE 802.15.4 | Proprietary | 3GPP LTE Cat- NB1/NB2 |
The need for a Wi-Fi HaLow network reveals that the sub-1 GHz band used by Wi-Fi HaLow may differ in each market based on regulatory requirements, such as:
United States: 902 MHz to 928 MHz

Australia and New Zealand: 915 MHz to 928 MHz

Europe: 7 MHz of spectrum split among the 800 MHz band and 900 MHz bands
Product manufacturers should consult their local regulatory entity to determine which portion of the sub-1 GHz band is approved for use. Wi-Fi Alliance actively promotes spectrum for Wi-Fi HaLow from 915 MHz to 925 MHz range to support product development for worldwide deployment.
Critical Power Saving Feature of Wi-Fi HaLow
One of the key design criteria for Wi-Fi HaLow technology is low power consumption to enable battery-powered IoT devices to operate for multiple years. The new MAC layer functionality enables devices in a Wi-Fi HaLow network to save energy, reduce congestion, and increase both capacity and device density. Transmitting a radio signal typically consumes more power than receiving a signal. Any reduction in transmissions for a device will usually save energy. The key factor for low power consumption is to ensure that the radio can reliably stay asleep a long period of time without being dropped or disassociated by the AP (Access Point). By allowing Wi-Fi devices to spend more time sleeping, the average energy consumption for such devices is greatly reduced. Devices that are asleep or passively listening will free up the available spectrum for active client devices to transmit their data.
Why is Wi-Fi HaLow Important?
Let us understand the Wi-Fi HaLow features that enable efficiency and energy savings in detail:
Non-Traffic Indication Map (TIM) Mode Options:

In some wireless local area networks (WLANs), the devices must wake frequently to monitor and respond to the Traffic Indication Map (TIM) sent by the AP in beacon frames multiple times per second. The TIM is used to indicate which client devices should expect inbound data. Wi-Fi HaLow devices can save power by operating in optional non-TIM modes, where they do not have to stay awake to actively monitor the beacon frames. This feature removes the need for a Wi-Fi client device to periodically check beacon messages. Freeing Wi-Fi HaLow from TIM mode allows it to conserve energy, making it competitive with other IoT sensor network technologies. A non-TIM mode is an option that depends upon the desired function of the devices and network. TIM mode is also supported by Wi-Fi HaLow. A Wi-Fi HaLow AP can support both options concurrently for a mix of devices
Target Wake Time (TWT): Client devices that expect to sleep for a long period of time can negotiate a TWT contract with the AP. The AP maintains any traffic destined for the client until the agreed-upon wake time is reached. When the client device wakes at the prescribed time, it listens for its beacon and engages the AP to receive and transmit any data required before returning to its sleep state. The interval between wake times, negotiated by the client and AP, can vary from especially short (microseconds) to very long (years)
Restricted Access Window (RAW):

RAW is another planning method when groups of client devices are allowed to communicate. For systems with predictable activity periods, an AP can grant a subset of clients with RAW privileges to transfer their data, while others can be forced to sleep, buffer non-urgent data, or both. The client devices save power and leave more network capacity available for other time-critical traffic
Diverse Applications of Wi-Fi HaLow
Wi-Fi HaLow can be applied across different industries and sectors. It offers reliable and efficient connectivity for a wide range of IoT devices and applications. Let's see potential diverse applications.
Smart Homes: Wi-Fi HaLow can be used to connect smart home devices that need to communicate over long distances or through walls. For example, a Wi-Fi HaLow-enabled smart lock on the front door can securely communicate with a Wi-Fi HaLow hub even from a considerable distance, allowing homeowners to control access to their property remotely.
Surveillance Systems:

Wi-Fi HaLow empowers the deployment of HD-quality video cameras for remote monitoring and surveillance in residential and commercial space. It allows you to feel more secure and aware by monitoring your property from anywhere. Wi-Fi HaLow's reliable connectivity ensures that clear video feeds are received, allowing users to stay informed and take timely action if needed.

 
Access Control:

With Wi-Fi HaLow, authorized individuals can effortlessly access secure entry points through Wi-Fi-connected smart locks or keyless entry systems, eliminating the need to worry over keys or misplaced access cards.Wi-Fi HaLow ensures a secure access experience, empowering you to control and monitor entry to your premises effortlessly. 
Logistics and Asset Management:

Boost efficiency and reduce losses in logistics and supply chain management with Wi-Fi HaLow. Wi-Fi HaLow enables real-time visibility and seamless tracking, empowering you to optimize operations, streamline workflows and prevent losses. With Wi-Fi HaLow, you can effortlessly manage your supply chain, doing away with manual inventory checks through its reliable connectivity and advanced tracking features.
Retail Labels, Signs and Scanners:

Wi-Fi HaLow revolutionizes retail with electronic shelf labels, interactive signage and barcode scanners. It streamlines inventory management, enhances customer experiences and allows real-time updates of product info and promotions. Engage customers with personalized recommendations and simplify inventory management with efficient barcode scanning, reducing errors and improving stock accuracy. 
Mobile Devices:

Wi-Fi HaLow can enhance the connectivity and battery life of mobile devices, enabling seamless communication and data transfer between smartphones, tablets, wearables and other IoT devices. Stay effortlessly connected and enjoy uninterrupted access to information, entertainment and services. Whether you're streaming content, exchanging data or controlling IoT devices, Wi-Fi HaLow ensures a seamless and reliable connection, empowering you to make the most of your mobile experience.
About the Author: Pratik Savle
Pratik is working as an Associate Firmware Engineer at VOLANSYS Technologies having 2.6 years of experience. He is a passionate solution provider and has experience in development and troubleshooting for various Wired and Wireless Protocols, and Linux and RTOS application development.