The fast growing IoT applications that demand low system complexity with longer battery life and wide range, the 3GPP has offered specialized cellular technologies like LTE-M and NB-IoT.  This has helped a massive amount of IoT devices to effectively use the already matured cellular networks and gain an advantage of ubiquitous coverage, reliable connectivity, secure communication, and varied services for data transfer. 
Both of these technologies have helped the cellular industry to contribute competitively in the Low Power Wide Area Network (LPWAN) domain. Both LTE-M and NB-IoT can be deployed in existing LTE infrastructure and spectrum, efficiently coexisting with regular mobile broadband services. Both technologies have been optimized for the need of  Internet of Things applications.
In this article, we focus on comparing the two particular cellular IoT technologies, LTE-M and NB-IoT to help users make the right choice for their application.
LTE-M is an abbreviation for LTE-MTC where MTC refers to Machine Type Communication.
This technology helps reduce device complexity and cost. The main components of LTE-M – LTE Cat-M1 and LTE Cat-M2 are a series of low-cost device categories evolved with each release of 3GPP to offer incremental improvements in data rate and bandwidth. The LTE-M targets applications with higher bandwidth data requirements, voice, and mobility.
NB-IoT where NB stands for Narrow Band is a low power wide area (LPWA) technology used to enable a wide range of new IoT devices and services. The narrow channel bandwidth gives unmatched spectrum flexibility in addition to energy-efficient operation and ultra-low device complexity. The NB-IoT targets applications where small data volume amounts are needed to be infrequently transmitted by stationary nodes.
Dual Mode Multi Band module
A dual mode module consists of both the Cat-M1 and NB-IoT modules in a single form factor to dynamically configure the best option for throughput and power consumption based on usage scenarios and network coverage.
The table below illustrates the differences between both the technologies based on the important benchmarking parameters.
Sr #

Parameter

LTE – M
NB – IoT
LTE Cat-M1

LTE Cat-M2

LTE Cat-NB1

LTE Cat-NB2

1

Max Download DataRate

1 Mbit/s

4 Mbit/s

26 kbps

127 kbps

2

Max Uplink DataRate

1 Mbit/s

7 Mbit/s

~62 kbps

~159 kbps

3

TX & RX Bandwidth

1.4 MHz

5 MHz

180 kHz

180 kHz

4

Transmit Power

23 / 20 dBm

23 / 20 dBm

23 / 20 dBm

14/ 23 / 20 dBm

5

Latency

50 – 100 ms

–

1.6 – 10 s

–

6

Duplexing

Full or Half Duplex FDD/TDD

Full or Half Duplex FDD/TDD

Half Duplex FDD

Half Duplex FDD

7

Mobility

Yes

Yes

No

No

8

Voice (VoLTE)

Yes

Yes

No

No

9

Spectrum Flexibility

In-Band

In-Band

In-Band, Out-of-Band In Guard Band Standalone Carrier

In-Band, Out-of-Band In Guard Band Standalone Carrier

10

Power Consumption

Best at medium to high data rates

Best at medium to high data rates

Best only at low data rates

Best only at low data rates
It may sometimes be challenging to choose between LTE-M and NB-IoT for your IoT solutions. The choice made may serve the purpose leading to the fulfillment of the functional requirements. However, when it comes to performance it may have certain concerns.
We try to help our customers understand and weigh various factors judiciously that could help them make the right choice between NB-IoT and LTE-M modems for their solution.
Availability
The first reality check that one needs to do is the availability of the technology at the deployment stage where the solution would be installed. Countries in Asia and Europe are focussing on the deployment of NB-IoT first while North America has prioritized the rollout of LTE-M. It is always better to verify with cellular network service providers and government regulations.
Mobility Factors
The mobility extent of your application is one of the major factors in deciding the technology for your IoT solutions. If the deployed system with the modem is having high mobility like an installation in automotive, humans or pets then LTE-M is a better choice as it leverages existing roaming models from the operators. NB-IoT is designed mainly for static devices with one time registration and it can lead to interruptions or high power consumption if devices are moved.
Latency
Latency is a very important factor to be considered for time-critical applications. As LTE-M offers much lower latency than NB-IoT, LTE-Cat-M1 and LTE-Cat-M2 are preferred choices for applications having time-critical expectations. NB-IoT on the other hand supports only half-duplex communication. The response time is an important factor for devices being remotely controlled. 
As the LTE-M provides a response time close to that offered by 4G/LTE network, it is an obvious choice over NB-IoT which is designed to transmit small amounts of data with latency in seconds. In case your application can handle a delay of up to some seconds for a response and the battery life is more important, then NB-IoT could be a choice.
Data Characteristics
The amount of data and frequency of transmission plays a crucial role in deciding a cellular IoT technology. The LTE-M is a better choice for high downlink and bandwidth requirements especially in applications where data or voice is regularly exchanged. The NB-IoT is preferred where small amounts of data are sent at irregular intervals without any time-critical expectation.
Power Source Expectancy
Assuming most of the IoT nodes are battery-powered, power optimization by implementing energy efficient operation is extremely important to extend the life of the battery. 
Enhanced battery life reduces the associated cost of field maintenance. Though both LTE-M and NB-IoT devices perform a wake-up on need, the NB-IoT is the best choice if battery life is the most important parameter as the simplified control protocol reduces the time to wake up.
Firmware Update
If firmware or software update is a considered feature in the product life cycle then the use of LTE-M should be preferred as it supports a higher data rate and bandwidth that can handle the large volume of data transfer. NB-IoT if used for firmware upgrade may lead to heavy draining of the battery. Some users prefer the use of Dual Mode modems that have both LTE-M as well as NB-IoT, where each one is used as per need.
Coverage
NB-IoT has up to seven times the range that of LTE CAT-1 and also better building/obstacle penetrating capability thus making it favorable for applications that are installed at difficult places to reach. Therefore NB-IoT becomes more suitable for applications such as remote/sleepy industrial sensors, smart meters, precision agriculture sensors, and smart city applications. LTE-M here complements the NB-IoT by offering reliable coverage in non-stationary scenarios and use cases requiring higher bandwidth.
Choosing the right cellular technology is one of the critical decisions in the design of IoT solutions as it directly affects the life cycle of your product. Though both LTE-M and NB-IoT offer enticing features, analyzing the requirements of your product paves the path towards making the right choice between both.
To understand the VOLANSYS experience and expertise in developing connectivity platforms using cellular technologies like LTE CAT-M1 and NB-IoT, let's read one of the success stories of the US-based client.
VOLANSYS provided a solution to the client where the LTE CAT-M1 technology was used when the primary wireless technology (wifi) lost connection. It was an industrial automation project where the boiler/heater was controlled and monitored remotely from a web server. This server can also be operated from an i-phone and android phone application as well. As it was a hard real time application we picked an LTE standard module and configured it to operate in CAT-M1 mode so as to provide a good user interface.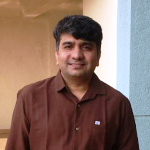 About the Author: Abhishek Ashtekar
Abhishek is working with VOLANSYS as Principal Engineer. He has 12+ years of experience working with semiconductor and embedded product companies and has expertise in architecting, designing, and developing solutions focussed on the area of connectivity.