The cloud services market size is projected to reach $927.51 billion by 2027. Cloud technology transforms the IT industry by providing on-demand technological resources to forward-looking organizations. Most of the organizations that rely on data-driven intelligence and product agility are moving their digital operations to the cloud. However, cloud migration is a daunting task. It requires a pragmatic cloud migration strategy to achieve real-time performance and efficiency of cloud solutions. Some of them are as mentioned below.
Cloud Migration Best Practices to follow
Understanding Business Requirements
Prepare the migration plan based on the three considerations: business goal, existing application architecture, and business requirements. There can be varied objectives of the organizations such as improving application performance, simplifying operations, reducing total cost of ownership, or on-demand resource availability, scalability & security, etc. to embark on the journey of the cloud migration.
After understanding your business requirements, identify cloud platform tools and technologies required for the migration of your application. Some of the well-known readily available cloud services like AWS Server Migration Service (SMS), Database Migration Service (DMS), and DirectConnect from Amazon or Classic Migrate, Database Migration Services from Azure can help businesses to migrate the existing component over the cloud.
Following this, you are good to go for executing the migration of each application. To efficiently migrate to the cloud and see faster business outcomes, follow the below mentioned proven strategies: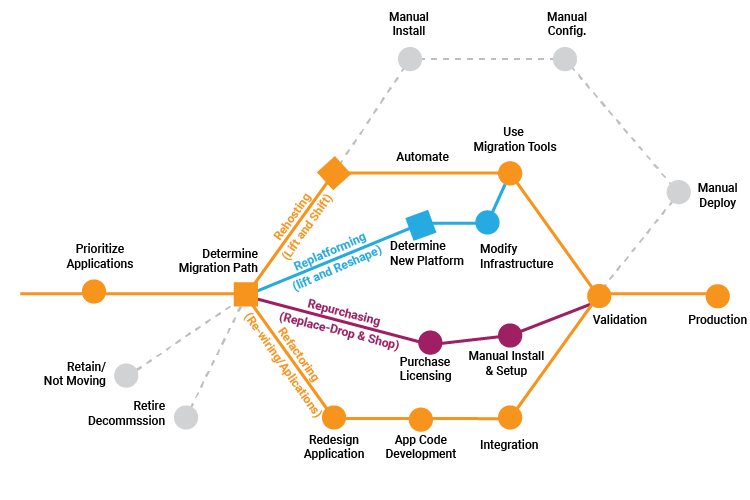 Moving applications from the local environment to the cloud using tools like Server Migration Service (SMS) from AWS or Classic Migrate from Azure or manual procedures is known as Rehost.  It is the simplest method to use as it doesn't involve changes in the enterprise business processes. However, it is difficult to modify application architecture, low in flexibility and inefficient in utilizing the cloud resources. 
Replatform (lift, tinker, and shift)
If you are replacing some components to take advantage of cloud platforms like Azure and AWS while moving your application then it's known as Replatform. Consider a scenario where you are moving a legacy application by changing the self-hosted database with Azure database service or Amazon Relational Database Service (RDS).
It sounds very similar to what you do in Rehost. But compared to that, this is significantly fast migration and also requires minimal integration including testing work.
Repurchase (drop and shop)
When you are replacing the whole application with cloud services like ERP systems and utilizing the same ERP system as a service over the cloud marketplace is called Repurchase. If your project requires a change in the existing license model and wants to move an entirely new application, then this is for you.
Here, you will be writing a whole new structure with the help of most of the cloud services like load balancing, auto-scaling, and CDN services. Projects that need scaling, performance, or any other feature which is not possible on-premises then it is recommended to go with this process.
There might be few applications that are no longer required once it is migrated to the cloud. You can always take them out to free up space and resources for the applications which are useful and take advantage of cloud migration services. 
Not all applications are the same and there are chances that some of the applications are not suitable for migration over the cloud.  You can retain those applications permanently on-premises or even in the early stages of your migration process.
Cloud migration isn't a one-size-fits-all process. Too often, organizations fail in the operations of migration to the cloud due to the complexities of the process and lack of proper implementation of cloud migration strategy. That's where the right cloud migration service provider can help. Here are the few cloud migration challenges and solutions.
Cloud Migration Challenges and Solutions
Security
Security comparison between cloud and on-premises environments would look similar however their properties are fundamentally different.  It will be a disaster if security glitches will be left open on the cloud server. 
Solution:
It would be easier for you to map out the security requirements along with its compliance for each application in your migration. Start using inbound and outbound port blocking services supported by the cloud. Also, you can use the user authentication mechanism provided by the cloud services. You can easily determine services from AWS or Azure , by evaluating whether they are equivalent or much better compared to on-premises security measures. In addition to that, AWS & Azure both have support for HIPAA compliance which upgrades the security level. Adding SSL certificates provided by either of the cloud platforms is always recommended.
Financial Cost
Despite the organization's goal to reduce the cost by migrating to the cloud, many of them end up adding extra costs in different cloud services. Thus, making it difficult to understand whether the migration was successful from an economic perspective or not. Because of the dynamic nature of cloud environments, rapid changes while adopting new services or scaling applications can lead to higher costs.  
Solution:
Clearly defined key performance indicators on expected spend or save over migration can help. An organization can always create the best possible economic model which can help them to understand how much they will spend for the application, services and projects. And as always we have an option for calculating it over AWS or Azure which will help to plan the budget.
Training
It is crucial to make sure that while introducing the new technology every stakeholder must be on board.
Solution: 
All resources that are going to use the cloud servers must be aware of the services used in migration. There are enough training materials out there on the cloud service provider website, but you have to plan it in such a way that resources do get enough time to train themself.
Resources Utilization
You must ensure that applications hosted on AWS or Azure are highly available and resilient. Cloud machine instances don't live forever. So you need to find a way to preserve the application state when the application moves between machine instances. 
Solution:
You can use services like Elastic Beanstalk from AWS or Azure Web Apps to set up replication or use a service that manages deployment and availability. You can also opt for reserved instances to ensure that your machine instances stay yours for a very long period. Take precautionary measures while using this as this comes at a cost. If you are working in a Virtual Private Cloud (VPC) or Virtual Network (VNet) from Azure, it provides active/standby IPSec tunnels and the AWS Direct Connect service creates a direct connection from your enterprise network into the VPC or VNet. You can achieve high resilient networking using the combination of both.
End-User Experience
If your costing is taken care of and your application users are not having any trouble in using it, then your migration goal is achieved. But this is not the same for all migration. Problems may occur such as user sessions getting terminated unexpectedly, application assets not loading accurately, new data not getting updated over the application, etc.
Solution:
While using auto-scaling, you need to make sure that your session is getting stored in the database and not on the file system. It will help you to overcome a session getting terminated unexpectedly. You also have to make sure that your application assets are accurately managed over the CDN network to avoid any broken assets issues over the application.
To avoid unwanted cloud migration failures and achieve tangible business benefits from cloud migration services, you need a reliable cloud migration service provider.
Read our success stories to know how VOLANSYS helped their clients with cloud computing services.
We understand the intricacies of the cloud services, address the pain of customers, meet end-state goals, have tool-chain expertise, and know the mechanics of the migration.
At VOLANSYS, we offer enterprise-grade cloud computing services including cloud architecture development and deployment, cloud migration services, cloud solutions optimization, and cloud data analytics by leveraging services of leading cloud providers such as Amazon Web Service (AWS), Microsoft Azure. We help industry giants, enterprises, and startups to transform their business model and operations with enhanced flexibility, scalability, and efficiency, taking their business to the next level. For more details, get in touch with our experts using the contact us form.
Source: https://www.alliedmarketresearch.com/cloud-services-market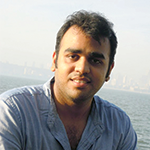 About the Author: Smit Shah
Smit is associated with VOLANSYS as a Technical Project Manager for cloud projects. He has expertise in managing cloud domains that includes web and mobile applications with native and cross-platform support. He has vast experience in the e-commerce domain supported by the cloud.