IoT brings countless opportunities for OEMs and enterprises to disrupt the status quo across various industries with smart products. However, developing IoT solutions is a complex process. A complete product engineering consists of hardware engineering, embedded engineering, software engineering, mechanical design engineering, and manufacturing. Out of all services, mechanical design services dominate. 
Today's customers' purchase decisions are highly influenced by product aesthetics, ease of use, form factor, and durability to get the desired product performance. The absence of any of the factors may lead to the manufacturing of erroneous parts, resulting in high costs, manpower, and time.
The Importance of Product Design Services
Mechanical design services cover every aspect of the product design process such as industrial design/sketches, 3D CAD design, CMF (Colour, Material, and Fitment) design, 2D drawings, simulation, 3D proto validation, DFM analysis, and drawing update, mold tooling, and final production. However, it is a complex process as it involves developing and optimizing design, ensuring industrial standard compliance, validating mechanical design, and prototyping to deliver superior products.  
It meets the aesthetics and psychological needs of the product. Engineering-driven product design services contribute to turning into durable, tangible products with reduced costs and time to market. It usually satisfies the demand and necessities of customers.
Let's understand mechanical design services in detail. 
What is Included in Mechanical Design Engineering Services?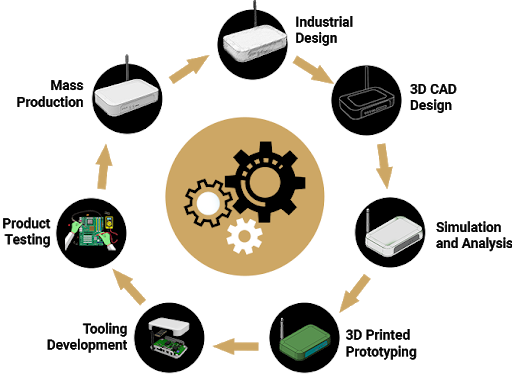 The product design process converts ideas into finished products. It is categorized into the stages that are as follows:

Industrial Design: During this stage, the industrial designers will turn your ideas into initial sketches to start visualizing how the actual product might look. Once you are satisfied with the form, they can design using a 3D CAD program such as SolidWorks, Creo, or other tools to ensure the product is feasible for both the user and the manufacturer. CMF is also part of industrial design where designers finalize the color, material, and finish of the product. By designing products with appealing colors, materials, and finishing, it does not only serve the functional requirements but also creates a better user experience.

3D CAD Design: 3D CAD design is done using different types of 3D software to create real-life visualizations of an end product. By effectively utilizing 3D rendering the designers can augment traditional designs that are functional as well as aesthetically appealing.

Simulation and Analysis: Simulation and analysis use advanced computational methods, design optimization techniques, and visualization tools. E.g. using advanced CFD methods, help understand the complex design and performance issues faced by many original equipment manufacturers and enterprises. Simulation and Analysis can be performed using ANSYS and ALTAIR tools for thermal analysis, shock, vibration, and drop scenarios of the product. 

3D Printed Prototyping: Prototyping a product can be costly and slow but using 3D prototyping, you can iterate efficiently. 3D modeling is one of the most important steps of the product design process. In this step, you get the idea of the form, fit, and function. 3D printed prototyping is the crucial phase and mandatory to validate the mechanic and ergonomics of it.

2D Detailed Drawing: After 3D CAD and 3D printed prototype validation, it is recommended to make necessary changes in the drawing and have to release detailed 2D drawings including tolerances which are very important to highlight for further process.

Tooling Development: Mechanical engineers will modify any pre-existing CAD from the prototype phase to get ready for what's called DFM (design for manufacturing) to ensure the design is optimized for manufacturable and does not have unnecessary cost embedded in it. Based on the projected volume, soft-mold tooling or hard-mold tooling can be selected.

Mechanical Design Testing: Design validation testing is necessary to validate a product's design as per design specifications, meets customer requirements, industry standards, and product regulatory compliance. Once the models are created, the product engineering team will validate the design margin by running various tests such as shock, drop, vibration testing, IP xx Testing,  to test the product in increasing stress levels of temperature, crash impact, deformed model visualizations, vibrations, the strength of the material, etc. failure and defects found at this stage are rectified in the modeling phase itself. This drastically reduces the scope of any error creeping up during the manufacturing phase.

Mass Production Readiness: Having pre-tested and analyzed CAD Drawings and models helps the manufacturer to initiate the process of defect-free mass production with ease. Companies can have hassle free manufacturing with multiple vendors as per their policy with this kind of readiness to deal with any uncertainty.
Benefits of Collaborating with Expert Design Engineering Services Company
Improved Design Quality: A mechanical design engineer ensures that there are no deformities, defects, and deviations in the product design. The material uses its strength to withstand various physical forces, design compatibility, etc. 
Reduced Turnaround Time: Multi-functional teams like electrical engineers and mechanical engineers, work simultaneously which ensures a reduced lead time while still improving cost and quality.
Detailed Analysis for Better Functioning: During the design phase various analysis such as finite element analysis is carried out to determine the end-user perspectives and needs, the possible failures that could occur, etc.
Compliance Testing & Certification: Many products need to comply with product compliance standards such as FCC, CE, RoHS, IC and region-specific certifications before you can legally ship and sell them worldwide. When it comes to product certification you need a reliable and safe product design not only for the end user but also for the environment itself.  
Validation of Durability: Mechanical Design experts who have expertise in various design and development tools and technologies help de-risk the design challenges of OEMs such as lack of inhouse resources, complexity of designs and eradicate the defect to make it more durable product design that would otherwise have caused a huge loss of material, money and time during manufacturing. It also helps in maintaining right balance in delivering right durability vs expected durability of product to balance cost factor as well. 
The aforesaid benefits at both the manufactures' and end-users can drive more enterprises to adapt product design services while developing IoT solutions. It has changed the way businesses approach manufacturing and design in smart connected products to stay competitive.  One-stop IoT solutions providers can provide complete product engineering services to OEMs and reduce the hassle of handling multiple vendors for developing products from concept to manufacturing.
How Product Design Company Help OEMs to Address Design Challenges
Many original equipment manufacturers (OEMs) and traditional manufacturers strive to provide viable solutions at substantially lower production costs. Their capabilities weigh down with challenges like the design to market, faster execution of concept to design and production, and hardware complexities. Product design services provide several benefits to various industries such as Industrial Automation, Automotive, Healthcare, Consumer Electronics, etc. But it has some challenges such as space constraint, right placement of RF antenna, material selection, manufacturability, and managing final product assembly time, etc.
In the pursuit of mitigating these limitations, a reliable product design company who has in-depth expertise in providing mechanical design services can help develop innovative solutions with reduced time to market and improved ROI.
Know how VOLANSYS Technologies help their clients with mechanical design engineering services.
VOLANSYS, being a one-stop solutions provider, offers complete mechanical design engineering services from concept to manufacturing. Our years of experience in delivering product excellence and innovation enable us to help our clients navigate through a complete cycle of developing innovative products with reduced time to market and improved ROI. Our mechanical design prowess has helped our clients across various industries like Consumer Electronics, Medical/Healthcare, Industrial Automation, Automotive, Retail, etc. to develop viable production-ready prototypes that outperform in the field. For more details, contact us.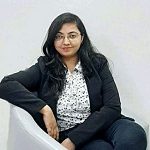 About the Author: Ankita Hariyani
Ankita is associated with VOLANSYS Technologies as a Senior Marketing Executive. She has the technical precision, business experience and creativity to craft technically detailed write-ups with ease. She has more than 4 years of experience in Marketing.