The Internet of Things(IoT) has been booming all around the globe for a decade. The major focus of IoT is the consumer domain, however, there are other areas that demand connected things based application. An extension of IoT in the manufacturing industry is termed as Industrial IoT, also commonly referred to as IIoT/Industry 4.0. IIoT connects machines and industrial equipment with a secure network and enables automation in the entire industrial facility. IIoT is a combination of M2M communication, Big Data Analytics, SCADA, and similar other industry equipment.
The industrial IoT (IIoT) market for device & technologies is expected to grow from USD 77.3 billion to USD 110.6 billion by 2025, at a CAGR of 7.4% during the forecast period.
To understand how Industrial IoT is benefiting the Manufacturing Industry, let's check some key points:
Importance of Private 5G Network
The demand for 5G is burgeoning, gradually Wi-Fi networks are suffering from coverage, capacity, reliability and timing issues. As Wi-Fi networks use an unlicensed spectrum, there is a vulnerability impact due to users in the public domain. The private 5G network uses a dedicated spectrum and the technology offering eMBB, mMTC and URLLC features bridges the above shortcoming gaps.
Although the latest Wi-Fi 6 and Wi-Fi 6E provide a major improvement over their predecessors by offering enhanced bandwidth, less latency, high speed and security, but the 5G technology is unbeatable in terms of ultra-low latency, and precise addressability to massive amounts of devices, privacy and outdoor performance. The momentum due to aggressive investments from Telecoms, OEMs and Semicon has led to rapid developments in private 5G networks eventually simplifying the deployment and reducing the cost shortly.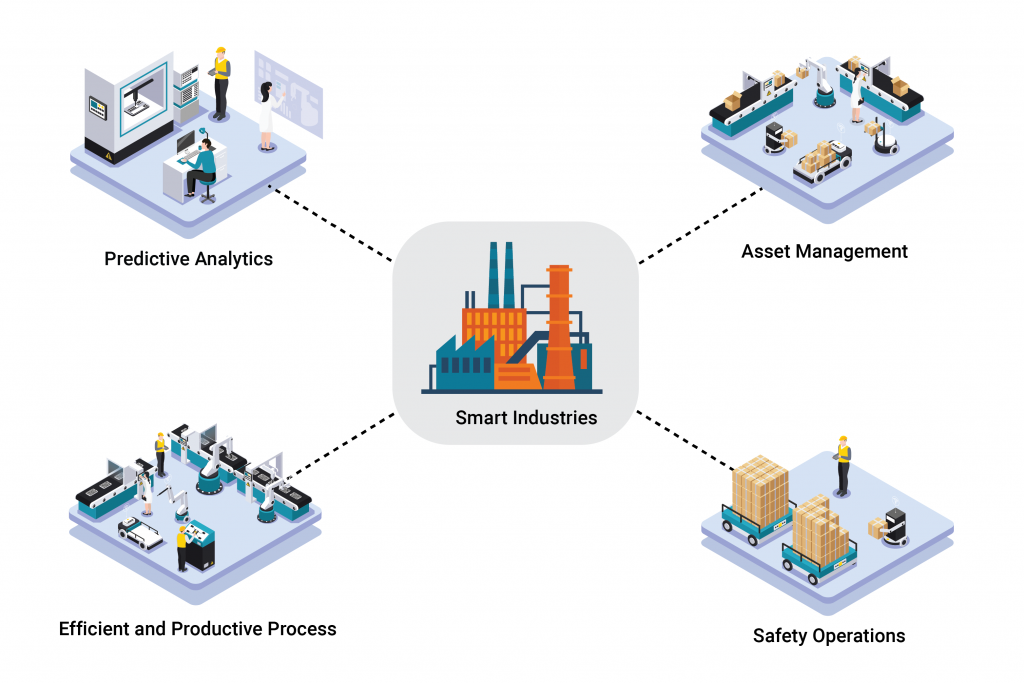 Asset Management:- Imagine a factory which is manufacturing some asset, the operator needs to verify regularly at what stage the asset has reached, change the control of the motor based on asset timings and control the production by looking at entry and exit points. In this scenario, it would be really helpful if we can reduce human intervention and track the assets smartly. Smart factory with the help of IIoT can track different factory asset locations with smart sensors, monitor demand-supply requirements, and manage the workflow, records, and production accordingly.
Predictive Analytics:- Manufacturers can do the analysis of ongoing manufacturing status, estimate the timeline required to achieve the milestone, maintenance requirements for machines. The predictive analytics tool helps engineers identify the root cause of an issue and work on the mitigation plan thereby warning failures much in advance. As we are moving with this ecosystem, the production line will have more data that can provide more visibility to deal with complex scenarios leading to a more robust system.
Efficient and Productive Process:- Mechanical equipment in the industry needs servicing and maintenance at regular intervals. If the equipment damages unexpectedly then it can affect the reduction in planned production, waste of time, and resources. IoT assisted production can avoid production downtime by servicing the equipment before it can lead to breakage. Eventually, production lines will have an increased amount of productivity with the help of enhanced analytics, downtime reduction, and decision making based on the machines that are being monitored leading to faster manufacturing.
Safety Operations:- Machines in the industry can be hazardous and can turn into danger if not serviced regularly.  Featuring industrial IoT (IIoT) automation units can assure the safety of employees, machines. Also, the industry can incorporate robotics with machines to restrict workers working below ground level or in some special chamber.
Nowadays, many manufacturing companies have started investing their time & money towards developing smart IT-driven manufacturing solutions. The adoption of Industry 4.0 enables the industrial users to leverage their benefits such as asset management, predictive analytics, efficient and productive processes, and safety for operations. However, by leveraging the benefits, IIoT comes up with its own set of challenges for manufacturers and enterprises.
Challenges of adopting IIoT for Manufacturers and OEMs
Interoperability:- Manufacturing is indulged with various sectors like aerospace, automotive and oil plants, etc. The manufacturing processes involved in different sectors vary. There are neither standards nor sets of industrial smart sensors for the industrial sectors available. For example, transferring data between machines from different vendors within an ecosystem will not be similar to other ecosystems. Standards like Zigbee, Thread, in IoT, boosted the IoT systems to interoperate with other devices for sharing information. However, similar standards are not in place for industry 4.0. OEMs and SMEs need to change/digitize their process to ensure the interoperability of the business unit based on a few existing processes.
Security:- Ensuring smart technology is void if it does not have an interconnected system. However, connecting industry-grade machines with a network carries risks. It can lead to vulnerable attacks and can cause malfunction of the manufacturing process, the safety of employees and machines can be at stake. It is a must for any Industry 4.0 OEMs to have the most robust and secure environment that can protect the workstation from cyber threats.
Insufficient Expertise amongst Industry Makers ( Lack of Knowledge ):- As IIoT has just started its pace, industry skills required for technology innovation, coordination of units with different mechanical shape and size, integration of data from various sources, and realization of vendors for numerous manufacturing systems is one of the difficulties in the market. Besides this small scale companies will find it difficult getting started with Industry 4.0 technology due to lack of knowledge and huge investment requirements.
Lack of Proven Technology:- A smart manufacturing unit will need to have a mechanism or sensors that detect and collaborate data smartly from one machine to the other. This requires industry-grade sensors and smart machines. Currently, the challenge is, the market does not have much of the smart sensors/machines that can be used in the Industry. Also, developing industry-grade sensors in place requires training and simulation with the ecosystem, which is a difficult task but an important aspect for an Industrialist.
On the basis of the above-mentioned benefits and challenges related to IIoT, let's understand some important use-cases supporting it. 
Use of Industrial IoT Gateway:- An industrial gateway interfaced with PLC, DCS, and other sensors for data collection via OPC UA or some other industry standards. It will support the cloud which helps to connect the real things with the digital world. Cloud-based gateway will enable an analysis of production data that will drive core business logic.
Some Key Features:
Cloud connectivity via reliable high-speed ethernet, Wi-Fi, or LTE connectivity (for very remote areas)
Supports standard industrial protocols (Modbus, OPC Unified Architecture -OPC UA, MTConnect, etc.)
Integration with PLC and SCADA
Time-sensitive networking (TSN)
Sends important data to the cloud for big data analysis and predictive maintenance
Use of Smart Manufacturing Solution:- A smart manufacturing solution would help to manage manufacturing units in a phase-wise manner and provide failure reports for the assets. This solution will also support industrial motor control and speed diagnostics. To track and to control manufacturing remotely this solution would provide a cloud interface. 
Some Key Features:
Control the operations and speed of the motors
Temperature and pressure measurement and analysis
Take appropriate actions on hitting the threshold values of temperature and pressure
Manufacturing phase-wise tracking with Rain-RFIDs and location plotting
Inventory management and order more stock/component when necessary
Cloud connectivity via reliable high-speed ethernet, WiFi or LTE connectivity (for remote areas) and manufacturing statistics
VOLANSYS is an engineering-driven, technologically advanced manufacturing services company, with the leadership and management team having rich experience of 15+ years in both product engineering and manufacturing. We strive to enable our customers for quick and cost-efficient transitions from design stages to mass production (engineering-to-manufacturing transfer). We intend to serve well-established brands and start-ups with brilliant product ideas alike, helping them bring their products to market in an efficient and cost-effective manner.
Read our success stories to know how VOLANSYS helped their clients by leveraging their manufacturing services in the Industrial Automation Industry:
Developing an AI/ML- driven preventive maintenance & failure detection system
Transform your legacy HVAC zoning system into a new-age IoT driven wireless zoning control system
Product engineering support and wireless interconnection over BLE for home safety devices with embedded Alexa assistant
Note: The content of this blog is based on the personal knowledge of any research work done by any individuals. There is a market research report on Industrial IoT. Figures are kept to the best of our knowledge and not to mislead in any manner.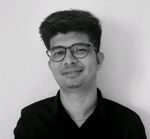 About the Author: Kunal Kotecha
Kunal is associated with VOLANSYS as a Senior Embedded Engineer. He has experience in designing solutions for embedded devices. He is technically sound in Linux Board Support Package, Embedded processor architecture, and multimedia applications. He is a tech enthusiast engineer who understands customer's requirements and enjoys engagement with them by means of providing feasible Embedded solutions.