About AWS Partner Network (APN):
The AWS Partner Network (APN) is focused on helping global APN Partners to build successful AWS-based solutions by providing business, technical, marketing, and go-to-market support. As an Advanced Consulting Services Partner, VOLANSYS has access to advanced technical training and resources to better support our customers. This partnership enables VOLANSYS to help its customers to design, architect, build, migrate, and manage their workloads and applications by taking advantage of all the benefits that AWS has to offer.
Having extensive experience in designing, deploying, and operating applications and infrastructure on AWS cloud, VOLANSYS cloud professionals are accredited with multiple AWS certifications such as Professional, Associate and Specialty – AWS ML Libs, Alexa Skills. VOLANSYS has also qualified as a Service Delivery Expert for AWS Lambda, AWS IoT Core, Amazon DynamoDB and Amazon API Gateway, AWS CloudFormation.
Find VOLANSYS on APN Partner Network and our accreditations.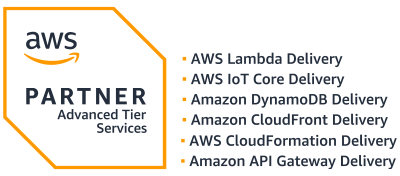 VOLANSYS' AWS Advanced Tier Services Partner
With our in-depth expertise on AWS products and solutions, we help enterprises to implement cloud based SaaS solutions, manage cloud connected devices, application and database migration, analytics and more. Our services cater to a variety of applications/use-cases such as the Internet of Things, Data and Analytics, Content Delivery, AI/ML, Business Applications, Backup and Restore. Whether you are just at the beginning of your cloud initiative, or already building and managing your cloud strategy, our team of certified experts can build well-architected cloud solutions that enhances productivity and improves business processes with minimal overheads, infrastructure costs and manual efforts. From advisory to operations, we take a holistic approach to transforming businesses. As an Advanced Consulting partner, VOLANSYS offers following services:
VOLANSYS has customized in-house reference design platforms viz,  IoTify, CENTAURI 200, Modular IoT gateway and Homebridge integrated with AWS cloud, empowering OEMs and Enterprises to develop AWS-based connected industrial solutions. IoTify is a secure, scalable and easy to deploy IoT Cloud & App Framework with pre-integrated CENTAURI 200 and HomeBridge IoT Gateways with AI/ML capabilities.
VOLANSYS AWS Service Delivery Offerings
Amazon CloudFront Delivery
Deliver fast and secure websites
Accelerate dynamic content delivery and APIs
Distribute patches and updates
Live streaming and on-demand videos
Read More

Build Serverless backends for web, mobile, and IoT
Preprocess structured/unstructured data for ML models
Develop event-driven functions for complex solutions
Easy integration with other services that helps in developing secure and stable user experiences
Read More

Manage 1M+ IoT devices
End-to-end data encryption
Scaling/de-scaling devices
Low latency & high throughput

Manage real-time data & video streaming
Complete data analysis & management
Integrate & store data in AWS S3, Redshift, DataLake, or Elastic Storage
Read More
Achieve app delivery with single-digit millisecond performance
Guaranteed SLA with 99.9999% availability
Serverless database that scales up/down as required
Easy integration with other services for analytics, insights, and data trends
Read More

Amazon API Gateway Delivery
Efficient API development for ML-based applications
Web application for customized IoT dashboard
Integration of API Gateway with AWS Cognito and AWS Lambda
Managed authentication & secured the RESTful APIs
Read More

Infrastructure as a Code (IaaS) service
Manage entire cloud infrastructure with DevOps
Easily scale productions stacks
Read More

Why VOLANSYS for Cloud Services?
VOLANSYS full-stack cloud development services address diversified challenges pertaining to seamless implementation, integration, deployment, and management of the cloud SaaS, PaaS, and IaaS solutions.
We design serverless microservices-based architecture with optimum resource utilization and continuous performance monitoring
We help in implementing secure API/SDK-based seamless integrations between cloud, devices and third-party services
We leverage the latest frameworks, industry-standard tools and technologies to monitor, manage and optimize cloud ROI and resource utilization
Operational Excellence With High Availability
We support automated build integration, testing, deployment, backups, migrations and recovery (CICD) for delivering a zero-downtime experience
We implement Enterprise-class Governance, Risk, and Compliance (GRC) practices and industry-standard regulations including PCI, HIPAA and GDPR within the solutions we deliver
Multi-Tenancy And Billing
We implement multitenant B2B2C user identity management for thousands of customers, applications, and end users, billing and metering
US-based company having 150+ years of experience in surveillance for auto dealerships & other industries. The client was looking for a s