Santa Clara, CA– [15 November,  2019]
VOLANSYS, a preferred IoT solutions & services provider company launches IoTify – cloud and mobile app platform to complement its gateway product line. Using IoTify, IoT solution providers and OEMs can build complete IoT solution in a very short time, as it offers a rich set of functionalities, pre-integrated gateways, and ready to use business application templates for various industries.
Ready to Market Solution: Our pre-integrated IoT cloud, mobile app, and IoT gateway solution helps to build market industry application quickly
Hassle-free Maintenance: Our expertise helps in maintaining the IoT solution based on different cloud platform
Highly Secure & Scalable: Our custom build functionality helps in mass deployment and maintaining all level device and user data security
Development Support: Our expertise helps to create customized IoT solution which adds more value to the solution
IoTify is a flexible, secure and feature-rich multi-platform IoT cloud & mobile app framework to create IoT solutions that can be customized as per the business needs to add more value in the solution. Using IoTify, different solutions can be built on popular cloud platforms such as AWS IoT, Ayla Networks and many more to be supported in the future.
Live dashboard
Device and user management
Secure OTA support
Live alerts, notifications and debugging
Cloud API for development
MQTT and HTTP based communication
Mass deployment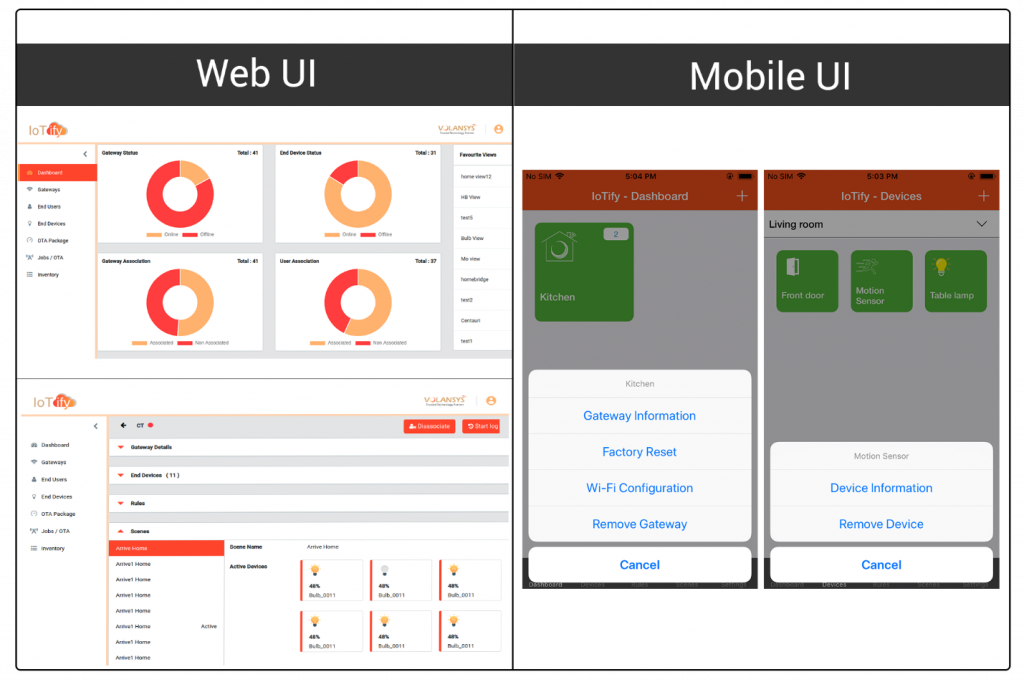 IoTify solution supports various fully integrated gateways to target home automation, enterprise automation, and industrial automation applications. VOLANSYS gateway products like HomeBridge, Modular IoT Gateway, and CENTAURI 200 are pre-integrated with IoTify.
For more information on IoTify solution, connect with us on [email protected].
VOLANSYS is a Silicon Valley-based product realization and digital transformation company offering internet of things, cloud and mobility solutions from Conceptualization to Manufacturing. Since 2008, VOLANSYS has been powering enterprises worldwide to engineer smart connected products and applications at a faster time to market and lower total cost of ownership utilizing its ready to use OEM solution platforms. With 50+ products implemented, 425+ employees and 9+ industry-standard reference platforms including CENTAURI 200 IoT Gateway, Modular IoT Gateway, and HomeBridge®, VOLANSYS is recognized by its global customers as an end-to-end IoT solutions provider in Product Engineering, ODM & Manufacturing services. VOLANSYS is headquartered in India with eight offices across the globe.