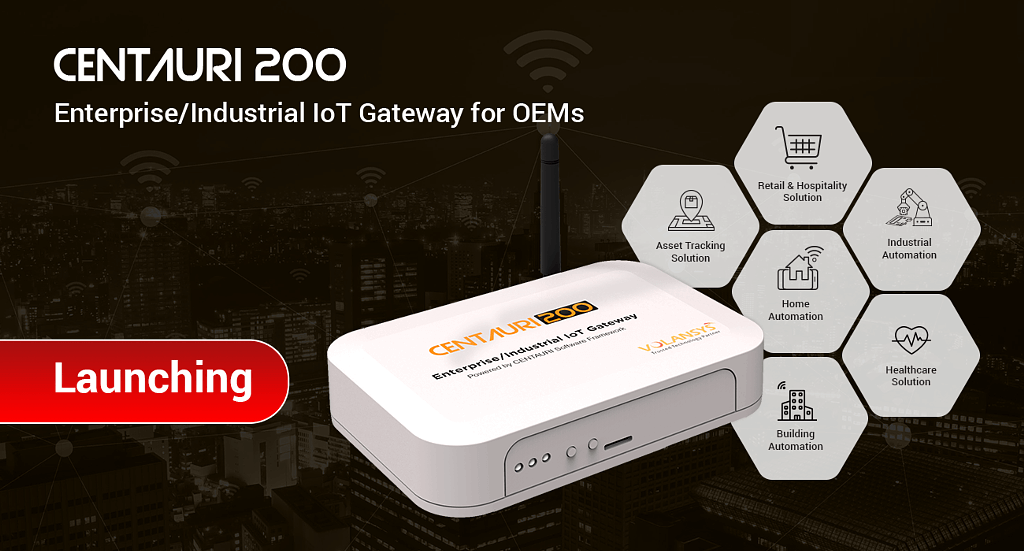 Santa Clara, CA-[6 September, 2019] VOLANSYS, a leading digital transformation, and product realization company launches a gateway platform CENTAURI 200 that satisfies all the needs for building an enterprise/industrial IoT solution. It will extend an opportunity for Solution Providers to build their business application quickly by using CENTAURI Software Framework on the CENTAURI Gateway platform. It is pre-integrated with the cloud and app platform which helps in developing the application faster. IoT Solution providers can now leverage fully customizable CENTAURI Gateway & Software framework to accelerate their solution development.
The Gateway platform can control/monitor more than 200+ devices through Android and iOS Mobile Application and it is fully integrated with cloud platforms like AWS IoT, Ayla Networks, IBM BlueMix and Microsoft Azure. It will also support AWS IoT Greengrass and AWS IoT Core for quick development on Gateway while providing all standard security and scalability features offered by AWS for IoT Solutions.
OEM's and IoT Solution providers, looking to develop solutions in the areas of Smart Healthcare, Smart Building Automation, Smart Home Automation, Smart Asset Tracking, Smart Industrial Automation, Smart Retail, and Smart Hospitality Solution can leverage VOLANSYS' newly launched CENTAURI platform to achieve faster time-to-market and lower cost of ownership.
About VOLANSYS CENTAURI 200 IoT Gateway
CENTAURI 200 IoT Gateway is built on secure, power-efficient, and cost-optimized ARM®  Cortex® -A7 based i.MX6UL/6ULL/6ULZ SoC. It also supports modular RF connectivity to build a multiprotocol IoT Gateway based on a single platform for different applications.
The following are the key highlights of the overall CENTAURI 200 IoT Gateway Solution.
Powerful Processor: ARM Cortex A7 Core
Modular Design: MikroBUS Compatible Connectivity
OS Support: Linux Yocto, CENTAURI Framework, Docker, OpenWRT
Wireless Connectivity: Zigbee, Z-Wave, BLE Mesh, and Thread
Wired Connectivity: Ethernet, RS485/RS232, CAN
Cloud Connectivity: Wi-Fi, LTE Cat1/M1/NB2/NB1/EGPRS
Cloud Integration: AWS IoT Cloud, Ayla Network, IBM Bluemix and Microsoft Azure
LEDs & Buttons: Programmable for Custom Interface
Security: Hardware Level Encryption Support
CENTAURI 200 supports multi-radio connectivity for seamless data flow between a variety of cloud options and devices connected over Bluetooth Low Energy (BLE) 4.2 & Thread-enabled IEEE 802.15.4 module (NXP KW41Z), BLE 5.0 Module (Nordic nRF52840), Z-Wave module (Silicon-labs ZM5304/ZGM130S), Zigbee module (NXP JN5169/JN5179 or Silabs EFR32MG12P). It supports LTE Module Quectel EG91 (IoT/M2M Optimized LTE Cat 1)/Quectel BG95 (LTE Cat M1/Cat NB2/EGPRS)/Quectel BG96 (LTE Cat M1/Cat NB1/EGPRS), Ethernet and Wi-Fi options for northbound connectivity.
IoT Solution providers can build their feature-rich business applications for mobile app platforms like iOS and Android having secure communications, relevant business logic, rule-based automatic control of sensors & devices, real-time alerts and so on. This allows controlling and monitoring devices from anywhere at any time.
For More information on CENTAURI 200 IoT Gateway, Contact Us
About VOLANSYS Technologies
VOLANSYS is a Silicon Valley-based product realization and digital transformation company offering internet of things, cloud and mobility solutions from Concept Design to Manufacturing stages. Since 2008, VOLANSYS has been powering enterprises worldwide to engineer smart connected products and applications at a faster time to market and lower total cost of ownership utilizing our ready to use OEM solution platforms. With 50+ products implemented, 425+ employees and 9+ industry-standard reference platforms including Modular IoT Gateway, HomeBridge® , and CENTAURI 200 IoT Gateway. VOLANSYS is recognized by its global customers as end-to-end IoT solutions providers including Product Engineering, ODM & Manufacturing services. VOLANSYS is headquartered in India with eight offices in total including our US sales offices.