Healthcare providers across the globe, are coming to realize the true potential of cloud based healthcare solutions. As per BCC research, it is expected that the Compound Annual Growth Rate of cloud computing services and solutions will maintain a course of 15% increase till the year 2025. By the year 2025, the size of the cloud powered healthcare market will be $55 BN. More than 83% of the healthcare industry today is implementing cloud for their business operations by replacing their old data systems. Cloud runs essential applications to keep the hospital operations running without a glitch, analyses patterns from unstructured data to help doctors for better diagnosis, and enables patients to remotely view their test reports and prescriptions from the data securely stored in the cloud. Cloud offers operational, functional and economic benefits for everyone involved – patients, doctors and healthcare organizations.
Let us see how cloud computing in the healthcare industry is revolutionizing patient care, data security, diagnosis and more. 
Centralized medical record access
Not so long back at hospitals, almost all the patients were having separate files/medical records for their various doctors' visits. That was quite difficult for doctors and staff to maintain and manage the paperwork. That is now replaced and made simple via cloud migration. Nowadays at healthcare centers, all the files or reports are located at one centralized location that is accessible via a web portal. The organization can use the AWS S3 service from AWS or Blob storage from Azure for storage and retrieval of medical record files. Also, the system can set periodical back up by using managed services such as Glacier provided by AWS. Patients do not have to keep track of physical files, and doctors can collaborate very smoothly. With the help of a reliable and secure cloud platform, information can be accessed anywhere at any time. This will help doctors in diagnosing patients quickly based on swift access to medical records saved over cloud storage like AWS S3, Azure Blob storage or even in AWS dedicated hosting solutions and Azure virtual machines. 
Medical record security complying healthcare standards
In comparison to physical records, cloud-powered healthcare solutions are much more secured & effective. The data stored over the cloud is accessible only to the relevant healthcare providers as and when required. This helps to avoid any unwanted circumstances which can accrue because of information leak. For instance, well known cloud platforms such as AWS, Azure, and GCP also enable covered entities and their business associates subject to the U.S. Health Insurance Portability and Accountability Act of 1996 (HIPAA) to use the secure cloud provider environment to process, maintain and store protected health information. This ensures that the patient data is secured and is not misused.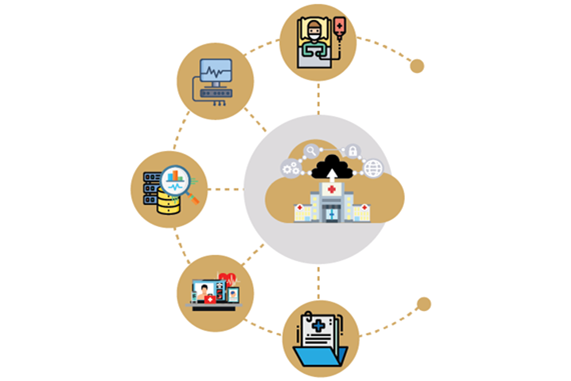 Effective patient engagement enhancing patient care
A cloud-based healthcare solution can help in enhancing patient care. With the help of just a few clicks, the patient can easily schedule his appointment with the doctor. Auto-reminders can be sent successfully to both the doctor and the patient, with the help of the cloud platform via AWS simple notification services like SMS or Email. Patient follow-up can also be executed with such services. Timely interaction with doctors after a surgery, a reminder for medicine usage, upcoming facility information, and many more use cases can be taken care of by the cloud platform. Patient vitals can also be monitored remotely by doctors with the help of cloud connected medical infusion pumps.
Healthcare analytics for better decision making
To perform clinical and medical device data analytics, healthcare organizations are leveraging machine learning models based on cloud data and other advanced solutions that results in accurate and insightful discovery, visualization and diagnosis. The volume and variety of structured, unstructured, and streaming data in healthcare and life sciences require highly-scalable platforms for storing and analyzing data as well as running predictive models that support real-time decision-making.
To illustrate, AWS Cloud Watch Synthetics supports monitoring of end-devices (it can be any vital monitoring device) every minute, 24×7, and alerts you when your application endpoints don't behave as expected. Cloud Watch Synthetics supports monitoring of REST APIs, URLs, and website content, checking for unauthorized changes from phishing, code injection, and cross-site scripting.
Improved scalability under any situation
Along with being efficient and reliable, cloud based healthcare solutions are also scalable which provides flexibility to scale up/down infrastructure to accommodate new data in no time as per the requirements. The best example of it being the current pandemic in the country due to Covid. It has put the healthcare systems in a very tough situation. A cloud solution can be the best option for such kinds of unforeseen circumstances. AWS auto-scaling and load balancing services are highly recommended and used by many hospitals in the current situation.
Cost-effective solution with custom payment models
With the help of cloud infrastructure, an organization can get rid of costly on-premise computer networking. This significantly reduces the overall cost associated with IT staff and other related on-premise infrastructure monitoring and management solutions At the same time, you also do not have to worry about any updating or adopting new changes as it can be done very smoothly with the help of cloud service providers in no time. Cloud platform providers like AWS and Azure offer a pay-as-you-go approach for over 160 cloud services.  With such models, one pays only for the individual services you need, for as long as you use them, and without requiring long-term contracts or complex licensing. Their pricing calculator tool also helps to know the services cost well in advance.
Above mentioned are some of the ways in which cloud can transform the healthcare sector. It also helps reduce IT cost, improved data backup, protection from data loss, medical devices integration and much more. VOLANSYS is a trusted healthcare solution partner for healthcare system providers and leading medical device manufacturers. We have hands-on experience in designing medical-grade FDA/HIPAA compliant cloud, connected medical diagnostic device development, cloud data analytics, connected drug delivery systems, cloud connected applications for health and fitness tracking, and transforming digital health systems with cloud enablement. With our cloud computing services and solutions, we help secure patient data and ensure regulatory compliance while allowing healthcare providers to continue delivering technologically advanced patient care and experiences.
Know more about our cloud offerings for healthcare
Read our healthcare success stories
About the Author: Smit Shah
Smit is associated with VOLANSYS as a Technical Project Manager for cloud projects. He has expertise in managing cloud domains that includes web and mobile applications with native and cross-platform support. He has vast experience in the e-commerce domain supported by the cloud.