Nowadays billions of internet-connected end devices and IoT hubs are taking place over traditional automation and playing a big role to make human life easier and more comfortable. However, in this process, these devices create tons of data and send them to the cloud for further processing. This requires an IoT cloud solution robust enough to handle all the challenges posted with the different industrial solution needs. OEMs and IoT solution providers are definitely in need of an all in one integrated solution that can satisfy all these needs.
Following are some of the very dominant challenges faced while building a complete IoT solution. These challenges must be addressed at the planning stage to avoid any future roadblocks.        
Huge upfront investment in developing a solution
Ready to use solutions come at a premium licensing cost
Interoperability with proven and known platforms
Customization for use case specific value addition
Reliable integration with various IoT hub/gateway and edge product
High operational expenses
VOLANSYS' IoTify framework can be a definite choice to address the above challenges and provide ready to market pre-integrated IoT cloud solution, gateway SDK framework, and mobile app SDK to build different industry solutions. IoTify solution is available under complete OEM offerings to achieve faster time to market and have lower upfront investment cost. We provide complete end to end support to our OEM customers to keep their solution up and running at a very low operating cost.
IoT Solution has three major components: IoT cloud, IoT gateway and mobile app. Following sections outline details about each component.
IoTify cloud provides APIs for mobile app, gateway, and other cloud connections. It has secure MQTT and HTTPS-based communication between gateway, cloud, and mobile. Cloud solution offers functionalities such as user management, device management, push notifications, and live events. It also provides a facility for device monitoring and control, secure OTA support for gateway and end devices, customized OTA jobs, inventory management, live debugging, etc. In addition, a live admin dashboard is available for back-office/admin users for managing gateways and devices.
IoTify solution is flexible and can easily integrate with an existing cloud solution of OEMs and IoT solution providers. For this IoTify provides interfaces on the cloud as well as on gateway devices which enables OEMs to integrate their existing infrastructure.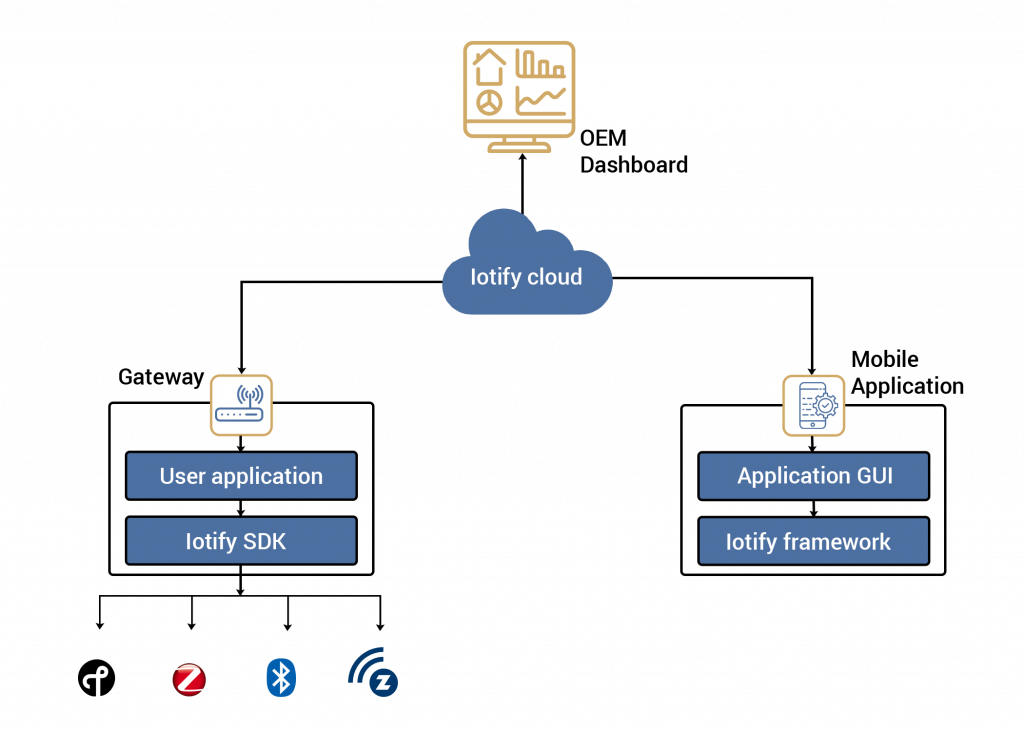 IoTify Device SDK Framework
IoTify device/modular SDK framework takes care of integration with cloud and end devices. It offers features like device provisioning, rules, scenes, gateway and device manager, cloud agent, and library APIs for end-use case development. Moreover, it provides the facility of northbound connectivities likeWiFi, Ethernet, and LTE as well as southbound connectivities like Zigbee, Z-wave, Thread, and BLE. It also provides management services for southbound connectivities with an amenity of gateway OTA, radio firmware OTA and end device OTA.

IoTify mobile SDK is available for both Android and iOS platforms. While using this SDK, OEMs need to handle only the GUI theme, remaining control & connectivity is managed by IoTify mobile SDK. This SDK offers features like user registrations, gateway provisioning/remove, cloud registration, device inclusion/exclusion, end device monitoring and control, cloud connectivity, etc.
Overall, IoTify solution addresses most challenges typically faced by OEMs and provides a cost-effective solution to address them. It is intended for use in home automation, enterprise automation, and industrial automation applications.
For more information on the IoTify solution, click here.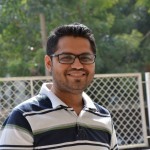 About the Author: Kalpesh Balar
Kalpesh works with VOLANSYS Technologies as Project Manager and looks after product development and end to end solutioning. Kalpesh has a rich experience of around 14+ years in various domain product development that brings greater value to our clients to implement their one-stop solution.