Enterprises using Amazon Alexa connectivity
Amazon's Alexa is a next-generation voice-enabled IoT ecosystem based on the cloud. Compatible Amazon Echo alludes to the hardware which connects to Alexa services. Amazon's Alexa services have the ability of answering questions, providing weather and sports forecast, reading news, streaming music from different medium and many more. Beyond these native abilities, this voice-controlled assistant can upskill with innovative expertise to handle other connected devices and services. All these abilities need to be done through voice commands that follow the same basic setup.
Enterprises and device manufacturers are incorporating Alexa's connectivity in their connected devices which help them to enhance the workflow of operations and accomplish more businesses. The research says that the market of the voice assistant will grow substantially at a CAGR of approx. 25% during the forecast period of 2021-2027.
Alexa voice interface can be used to control and manage end devices
Alexa Skills Kit (ASK) SDKs is the extensible instrument of Amazon Echo and one of the viewpoints that separate the stage from other conversational interface arrangements. With SDK, anyone can create new voice commands that combine with web services or AWS lambda functions to perform the task. Expanding SaaS frameworks with voice interface or establishing existing business forms by using voice commands, the ASK adapts Amazon Echo in big business opportunities.
Using our CENTAURI 200 IoT Gateway, one can integrate Amazon Alexa with their IoT ecosystem:
Step 1: Use Amazon Echo through which user can send voice command to Alexa 
Step 2: Create skills set for the users who can communicate with cloud-connected devices via voice. Send a voice command via echo or mobile application, which works according to its functionality also known as Alexa skills set. Each skill set is linked with an Alexa API for that particular command
Step 3: Alexa API comprises a message which is sent to the AWS lambda where the voice is processed and confirms the action. The lambda function communicates the desired action to device' cloud i.e. VOLANSYS CENTAURI 200 IoT gateway cloud
Step 4: The device' cloud interprets the message and give a signal of turning on or off
Step 5: A message is sent back to the skills API to check whether it was successful or not.
Alexa uses the response to provide feedback to the user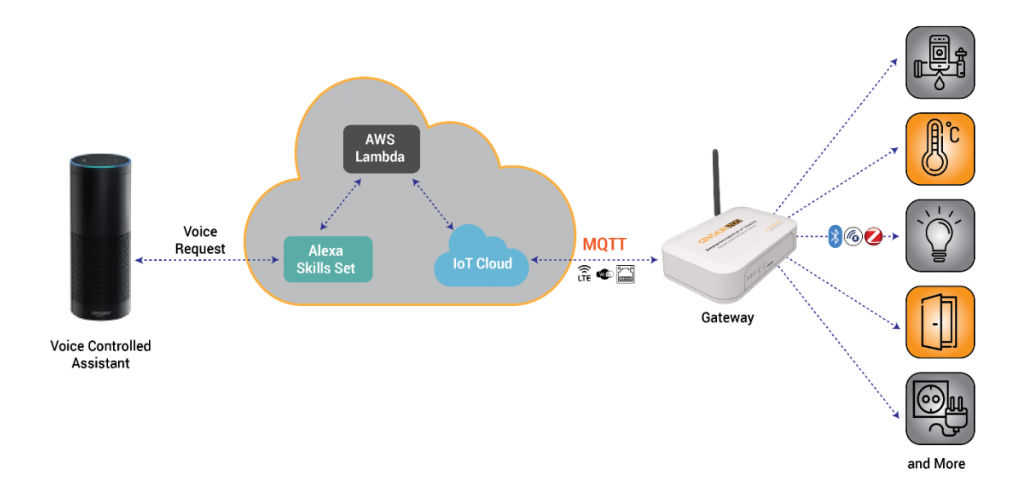 IoT end devices can be robustly connected with a Gateway to perform various IoT applications in diverse industries such as home automation, industrial automation, retail, automotive, and many more. The integration of Amazon Alexa with VOLANSYS' CENTAURI 200 IoT gateway will establish a suitable solution for the enterprises and deliver the following benefits:
Voice Controlling: This integration added advance capability to operations and deliver a benefit of touch-free voice control solutions to many industries. Although the voice controlling ability has given a continuous advantage to make the IoT products smarter and connected, i.e. one can obtain information and control the environment with their voice
IoT Ecosystem Security: When it comes to IoT Security, application delivery or management, Amazon Alexa has limited features. However, when it combines with VOLANSYS CENTAURI 200 IoT gateway help users with stringent network security requirements to protect user and system data through encrypted wireless communications
Continuous connection from one echo device to multiple IoT enabled devices: Gateway help to provide end-to-end wireless voice communication between the user and device. Volansys CENTAURI 200 IoT gateway platform can control/monitor more than 200+ devices. It is also pre-integrated with cloud and app platform which helps in developing the application faster
Real-world Implementation: Many industries such as food and beverages, internet, retail & morehas aggressively pushed mobile ordering platforms to the next level of expansion i.e., voice-only ordering, which is rolled out on Android and iOS platforms. The ability to order anything online with your voice using Amazon Alexa has changed the way of working in a real-time scenario. The Amazon Echo is not only giving an advantage to enterprises but also playing an important role in our daily life
Note: The content of this blog is based on the personal knowledge of any research work done by any individuals. The forecast of Amazon Alexa's market for the upcoming year is used from websites "market research future". Figures are kept with the best of our knowledge and not to mislead in any manner.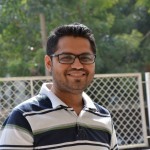 About the Author: Kalpesh Balar
Kalpesh works with VOLANSYS Technologies as Project Manager and looks after product development and end to end solutioning. Kalpesh has a rich experience of around 14+ years in various domain product development that brings greater value to our clients to implement their one-stop solution.