As enterprises move towards digital transformation, utilizing cloud computing has increased. Most organizations that rely on data-driven intelligence and product agility move their digital operations to the cloud. Cloud computing brings more value to the business wanting a secure and flexible infrastructure solution.
Cloud offers several different models, types, and services. The three different types of cloud services are: private cloud, public cloud, and Hybrid cloud. Among these, hybrid cloud deployment strategies have become the new standard for enterprises.
A very important reason behind this is, the hybrid cloud deployment favors enterprises to provide the benefits of both the public and the private cloud deployments depending on the need such as speed of execution, high-availability of resources, applications and data security.
Let us understand what hybrid cloud means.
Hybrid cloud is getting more popular and becoming an organization's reliable choice for any solution architecture orchestration. It uses computing and storage capabilities with other services available in the on-premise infrastructure (or private cloud) combined with the public cloud like AWS, Azure, or GCP. Hence taking the benefits offered by both public and private cloud and managing each other's disadvantages.
Some of the reasons enterprises decide to choose a hybrid cloud infrastructure include:
Better security
Cost controls
Faster networks
Business continuity
Hybrid Cloud Architecture
The hybrid cloud architecture combines a public cloud offering infrastructure-as-a-service (IaaS) and an on-premise private cloud. It has adequate network connectivity through WAN or a broadband connection so that applications interact and data is shared and managed as a single architecture.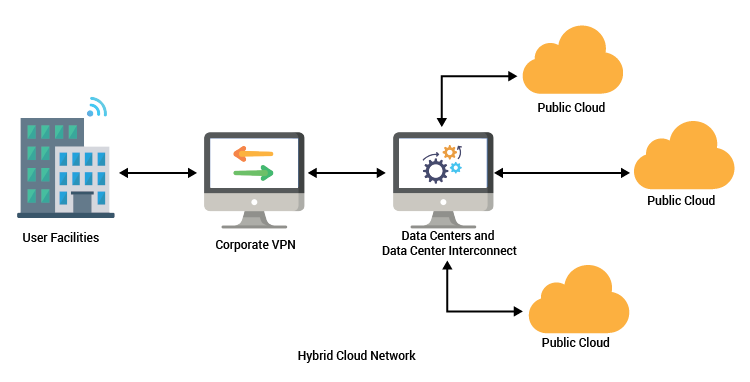 Hybrid Cloud Application across Various Industries
Adapting to the Hybrid Cloud can help you effectively use the benefits provided by both the private and public clouds in a well-orchestrated pattern that can be compelling and can be too useful in many use cases. Below are some of the popular use cases of hybrid cloud:
Irrespective of the industry or business model, any organization is very likely to benefit from the hybrid cloud advantages. Below are the examples, which can help you decide better.
Financial Services 
On-premise enhances the security model of financial institutions. Higher security and privacy standards for any Financial service organization are of utmost importance than any other sector and by making use of the hybrid cloud approach they can achieve that. 
Mission critical data like process trade orders or critical data transactions, sensitive client/customer information can be stored on the private cloud while keeping the public cloud just for less important or less sensitive data or jobs like hosting and deployment and thus ensures the application is flexible and scalable to the workload requirements.
The Hybrid cloud is a definite benefit for financial organizations. The private cloud is generally used to store and process sensitive data and client information. The public cloud can be used to host less sensitive data/applications. This gives adaptability to the organization. 
E-commerce Applications
For e-commerce applications handling the workload on the Big-Day Sales is quite unpredictable as it can observe frequent spikes during those times. Thanks to the Hybrid Cloud backed by the Public Cloud environment which is flexible and auto-scalable based on the workload demands during such critical situations. Changing the resource handling capacities or adding/removing the resource based on the request is a key feature of the public cloud and thus plays a crucial role in scenarios like this.
For e-commerce businesses, the workload spike can be different during peak times such as holidays. Managing the data at such time can be unpredictable and this is when the scalability of the Hybrid Cloud model works. 
Healthcare 
The security of the private sector helps the healthcare industry to adhere to the strict data regulations and compliance requirements. While the private cloud provides security, different health care providers, insurance providers, and others can access the general information as and when they need it.
Research/Education Institute
The hybrid cloud helps institutes distribute the general public information over the public cloud and can provide a secure internal network via the private cloud. The students can access highly secure information via the secure cloud.
When Should Enterprises Consider Moving to Hybrid Cloud?
When you have a variable or incremental workload
When you have big-data processing requirements
When you have distributed data between private cloud and public cloud
When high availability of the data over various geographical regions and disaster recovery matters for you
When you have strict regulatory requirements
Managing any hybrid cloud can be a nightmare if not planned or assessed properly. There are various reasons to brainstorm before the hybrid cloud implementation. These include:
Identifying the Workloads best suited for on-premise private cloud or a public cloud. Doing a regular backup of the data with the provision to recover from any disaster is the main and easy-to-use feature offered by most public clouds.
Security Planning for your hybrid cloud is of utmost importance. Identifying this requirement for both the environments and using managed services (like Identity and Access Management (IAM)) can help you with the security and monitoring aspects without compromising the performance.
End to End Orchestration implemented with the hybrid cloud tools helps integrate the various cloud services, which results in the reliable sharing of the data or other dependencies across on-premises, cloud, and hybrid environments.
Hybrid Cloud Frameworks can help enterprises to manage and deploy their hybrid cloud environments easily. The tools or frameworks can collect and organize the data from both on-premise and public cloud systems in one place and can apply some metrics or perform data analysis.
Benefits of Implementing Hybrid Cloud
Architectural Flexibility and Efficient Scaling With Hybrid Cloud, enterprises have the flexibility to keep the sensitive and frequently accessed data or perform critical operations on the servers in their private cloud while doing regular backups and disaster recovery planning on the public cloud. Auto Scaling features offered by the managed services of the public cloud can scale the resources vertically and horizontally based on the workload spikes.
Ease of Operation and Billing With Hybrid Cloud, here also comes the flexibility to operate in any cloud environment well suited for your business. It allows migration of the workloads to and from legacy infrastructure and a public cloud whenever required. The public cloud offers managed services like data storage at a cheaper cost than the private cloud because of the "Pay as you need" model. So the enterprises relying on the hybrid cloud can decide to opt for a perfect cost-effective environment for their workloads.
Better Security and Compliance A hybrid cloud allows you to select dedicated servers and network devices that can isolate or restrict access. There is only a private network as a communication medium through which your on-premise servers and public cloud communicate, combined to work as a single integrated architecture.
With better security comes the ability to address compliance requirements. With a hybrid cloud, organizations can keep data in a private environment while operating workloads in the cloud, or they can operate workloads in a private data center and move data to and from the public cloud as needed. This allows companies to meet regulatory requirements and still benefit from the cloud's elasticity.
Moving to a hybrid cloud environment is a complex process. A trusted technology partner can help you build a hybrid cloud environment with ease. VOLANSYS with its cloud engineering services delivers performance and efficiency to all clouds adopted by your organization. Read our 
success stories
 to know more about our cloud engineering services.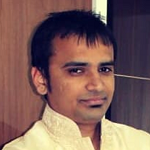 About the Author: Jaikishan Joshi
Jaikishan has been working with VOLANSYS past 3 years as Sr. Engineer in Cloud domain. He has experience in designing and developing cloud based UI using various technologies and tools. He is a tech enthusiast and can be seen looking into the tech updates/news rooms in the free time.