The global market of wearable devices is estimated to reach USD 46.6 billion by 2025 and is anticipated to grow at a CAGR of 20.5% from 2020 to 2025. 
The outbreak of the COVID-19 pandemic has left the medical facilities overwhelmed due to continuous rise in the infection level. To overcome this issue, there is immense potential in healthcare IoT solutions and wearables as it can enable remote monitoring of patient health and automation in healthcare facilities. This can reduce the excessive exposure to the virus and burden for healthcare front lines.
Let's understand how wearable IoT enabled automated health monitoring system can save time and manual efforts of healthcare professionals in the times of COVID-19 pandemic: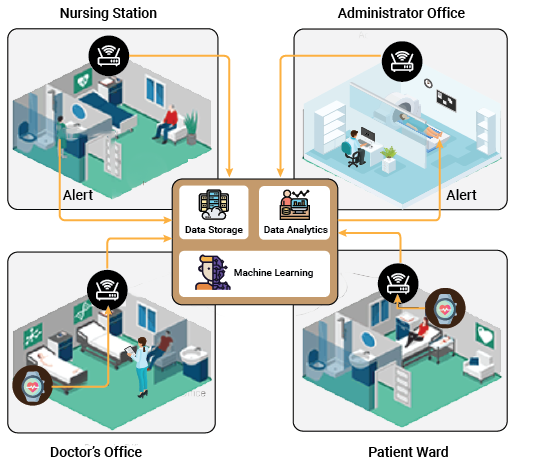 Frequently monitoring patients vitals is a part of the treatment. For that, healthcare professionals who physically come in contact with the patients are likely to get exposed to the virus. That's where wearable integrated IoT solutions come to the rescue. It can take vital readings including temperature, respiration rate, blood pressure, pulse rate, sugar levels, etc. from a patient on predefined intervals and send readings to the Wi-Fi enabled gateway device over Bluetooth, Zigbee or other communication protocol. The gateway device in turn can send readings to the cloud. The cloud can perform analytics and machine learning on data and notify the nursing station in case any patient's health condition needs attention.
The COVID-19 wards are kept completely isolated from the rest of the healthcare facility to reduce the chances of spread. Yet, many times it happens that patients try to step out of the ward. The wearables can help to track patient movements in the COVID-19 isolation wards avoiding the need to keep manual watch. The wearables can enable the cloud to notify the nursing station if COVID-19 positive patients try to step out of the isolation ward by providing patient location coordinates to the cloud. The wearable can also warn other wearables nearby about the presence of COVID-19 patients.
As per COVID-19 guidelines, temperature readings of anyone visiting an operating site and/or building should be taken before allowing them to enter premises. But, for healthcare professionals, it's crucial to keep taking temperature reading frequently, while they are on medical premises as well. The wearables can take temperature readings of healthcare professionals periodically and send them to the cloud. The cloud can analyze collected data and notify nursing stations if the temperature for any healthcare professional is greater than 37.4°C so that the professional can be isolated immediately. 
As per social distancing norms, it is advisable to maintain at least 2 meters of distance from everyone around and avoid mass gathering everywhere. The wearable can calculate distance from other wearable devices and inform the person to be aware. The wearable can update location coordinates to the cloud via the gateway device. The cloud can analyze all uploaded coordinates and notify the administration if more people are gathered in a certain part of the facility, the administrator can announce to clear the crowded area and maintain social distancing.
Contact tracing is a public tool to break the transmission chain of COVID-19, for healthcare facilities, contact tracing is critical as patients admitted are at a high risk of catching infection as their immune system is already weak. The wearables can help with contact tracing in case of any professional being tested positive for COVID-19 to break the chain of spread.
With an increased number of patients and a shortage of healthcare professionals, there are lots of medication charts to be remembered, which creates a burden on healthcare professionals to keep up with syringe/injection timings for designated patients. The wearable can be programmed with medical chart details to reduce burden. Wearables can also remind patients to take medicines on time as maintaining an equal amount of drugs in blood all time can help with faster recovery.
For COVID-19 precautions, keeping the indoor and outdoor areas sanitized is one of the guidelines. The healthcare premises should be sanitized frequently as it's a matter of patient health safety. The wearables can be programmed with sanitization drill schedules to make sure the entire premises is sanitized frequently without affecting the operation of healthcare facility operations.
In addition to the above-mentioned contributions, there are numerous use cases where wearables can make a difference in the healthcare facilities, personal healthcare, and fitness. Now, let's understand the major challenges and solutions for developing IoT Healthcare systems:
Data Security and Privacy
One of the significant threat IoT solutions can impose is data security and privacy as they capture, transfer and store sensitive vitals, medical records provided by/to patients, also known as PHI (Personal Health Information) across and among solution components. The cybercriminals can hack into the IoT solution and misuse PHI to create fraudulent insurance claims or buy drugs. The IoT solution should be HIPPA Compliant, which is an act published by the US to establish national standards for the protection of PHI that is held or transferred in electronic form. Also, integrate secured communication protocols and encryption mechanisms to ensure PHI is secured while it's in transit or at rest.
Integration of various IoT devices is also a challenge in the healthcare domain as devices manufactured by each manufacturer support proprietary or different communication protocols and transmission formats. This means devices from different manufacturers are less likely to communicate with each other as device manufacturers haven't reached a consensus regarding communication protocols and standards. As the best shot, IoT devices architecture should be flexible enough to support multiple communication protocols and authentication mechanisms. Multiple transmission formats should also be supported to ensure easy integration with various cloud services.
Sensors leveraged for patient vital checks generate a continuous influx of data which also needs to be stored in the cloud. Thus, resulting in high data storage costs and difficulties in decision-making during treatment. IoT systems need to be designed using suitable data-driven learning techniques that can efficiently extract a useful set of data to store and process further helping with both cost and decision making. Even the IoT devices should be designed in such a way that they can process and eliminate some of the raw data locally that will save upload bandwidth and cloud processing.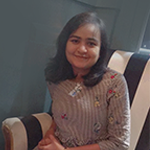 About the Author: Prakruti Patel
Prakruti is associated with VOLANSYS as a Technical Lead for Mobility. She has expertise in architecting, designing, and developing mobile apps for the IoT domain with native and cross platforms. She is a technology enthusiast, who truly believes in quality and perfection.