The advent of 5G connectivity offers massive connection power that helps healthcare providers to deliver critical care on-demand. At present, 4G network and other communication technologies are widely used in healthcare for smart healthcare applications. However, as the market of smart healthcare matures, the need for robust network connection rises.  
Therefore, the emerging 5G network is expected to support smart healthcare applications. It can fulfill most of the requirements such as ultra reliability and low latency communications or critical machine type communication, high bandwidth, high density, and high energy efficiency for large numbers of devices, machines, and sensor-based applications connected within the IoT ecosystem.
5G is not just faster than 4G connectivity: it also offers massive connection power, enabling millions of devices to be connected simultaneously to develop 5G-enabled smart healthcare solutions.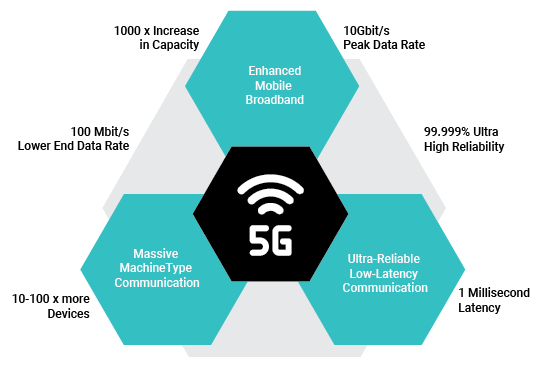 Besides, 5G networks and IoT combined are expected to transform healthcare of the future. It will provide the infrastructure needed to carry massive data where access to near real-time data and the ability to make split-second decisions are critical. 5G technologies such as device-to-device (D2D) communication mmWaves, the macro cell and small cells can address ultra-densification and high energy consumption challenges of IoT applications based on wireless sensor networks. Small cells are low-powered radio access nodes having a range of a few meters to a mile in diameter and can be used for smart healthcare solutions like remote surgery which demand high data rates. Small cells are three types and ranging from shorter to larger they are called femtocells, picocells and microcells. Whereas, Femtocells are used to increase the coverage and capacity within a small vicinity, such as hospital, home etc. It supports up to 30 users over a range of 0.1 km. 
5G will have a substantial impact not just on Healthcare but also on various industries including, manufacturing, automotive, smart grid, consumer electronics, etc. 
There are several promising 5G IoT use cases in healthcare. Some of them are as mentioned below:
5G IoT Applications in Healthcare
Virtual Consultations Via High Definition (HD) Video:- Enhanced mobile broadband (EMBB), which provides faster data rates across wide coverage areas to improve ultra-HD video consultation. It allows primary/secondary care professionals to provide improved quality of services such as conducting initial screening assessments, routine check-ups, therapy/rehabilitation sessions, and increasingly visual diagnosis (e.g. identifying dermatological conditions and symptoms). By conducting these appointments over the air, reduces the burden on the patient to travel to see healthcare professionals and decreases the cost of each appointment
Real-Time Data Analysis:- 5G offers the most significant benefit of real-time data transfer for improved data analysis. It has the capability of providing ultra-low latency that allows data processing faster at the edge of the network. This will help in several applications such as remote diagnosis, remote surgeries, real-time patient health monitoring and improved patient engagement. It provides robust connectivity between smartphones, mobile apps, cloud services, devices, sensors, and systems to enhance data analytics capabilities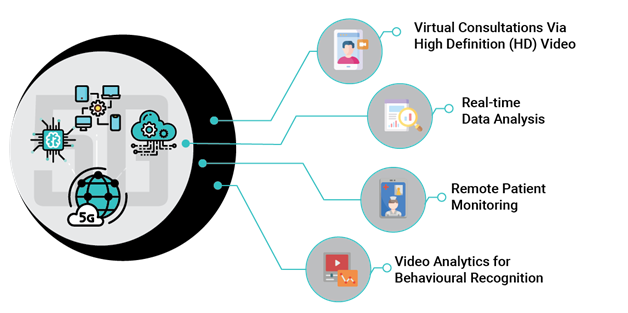 Remote Patient Monitoring:- With 5G, reliability, performance and capacity increase to provide proactive healthcare services and chronic disease management. 5G network enables secure and faster data transfer to the cloud using sensors, wearables and e-health devices connected within the IoT solution. In the cloud, AI enabled software helps monitor and analyze patient vitals without the need for patients to travel to primary care facilities
Video Analytics for Behavioural Recognition:- Video Analytics can help in identifying the abnormal behavior of the patients such as falling, or incidents of becoming danger to themselves. 5G provides high bandwidth that allows HD video to be sent for processing and analytics on the edge or cloud using the data collected from the device using smart cameras
Know more about how 5G is all set to revolutionize various industries in the upcoming decade.
Unlike 4G, 5G communication technology coupled with IoT, Big Data Analytics, Artificial Intelligence (AI) and Machine Learning (ML) will have a tremendous impact on the healthcare system. However, it takes a lot to make 5G work. Right from chipsets, security, devices connected to the network, and resources require the expertise of 5G engineering services and development of connectivity platforms to reach fruition.
To realize the full potential of 5G and improve technological capabilities to create products of the future, OEMs should collaborate with the trusted technology partner for 5G IoT application development.
VOLANSYS being a one-stop solution provider offers end-to-end product engineering services. With decades of experience, we have hands-on expertise in providing 5G engineering services and developing connectivity platforms using cellular technologies like GPRS, 3G/4G/LTE. This has helped our clients from diverse industries to transform their businesses into highly productive and extremely reliable models.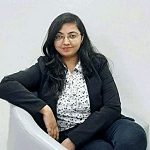 About the Author: Ankita Hariyani
Ankita is associated with VOLANSYS Technologies as a Senior Marketing Executive. She has the technical precision, business experience and creativity to craft technically detailed write-ups with ease. She has more than 4 years of experience in Marketing.