It is estimated that by 2022, there will be approximately 12 billion mobile-ready devices and IoT connections.
Mobility solutions when powered with the capabilities of IoT, facilitates the remote monitoring, analytics, and control of smart connected products. This increases the need for IoT application development with enhanced user experience.
However, end customers before purchasing IoT products check product ratings and respective IoT app ratings to ensure that the connected application is highly efficient with connected devices. If the app ratings are low, customers could easily avoid using the app and product, causing massive loss to the OEMs and IoT Service providers. Hence, maintaining or increasing positive mobile app reviews can play a vital role in driving customer engagement.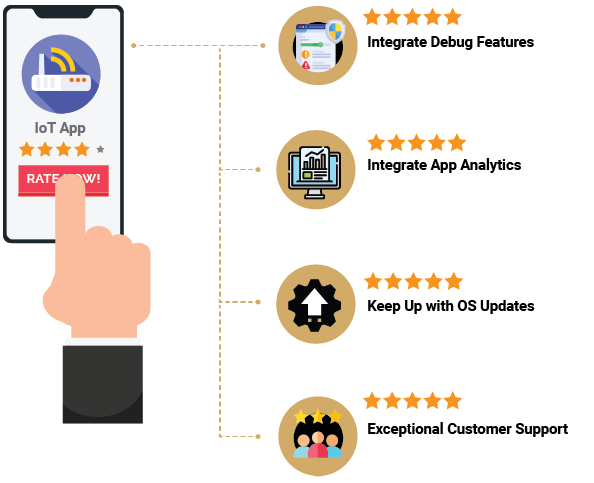 4 Ways to Improve IoT App Ratings and Reviews
Integrate Debugging Features
As per industry standards, all IoT solutions are end-to-end validated several times before the solution is deployed in the production environment, so does the Mobile app. But due to the dynamic nature of IoT product environment setups at the end customer premises, customers may find issues, which never occurred during the pre-production launch validation cycles. To overcome such real-time issues, the IoT app must have debugging features integrated to collect debug information about the issues. From the debug information, it is easy to analyze the environment setup and resolve customer issues without stressing customers for more details. 
The debug features must capture important events, errors, and user interaction details that can help identify the issues. However, one should not capture sensitive information like credentials, cloud tokens, encryption/decryption keys to respect user privacy.
The analytics tool plays a significant role as it can give insights about the ways to improve app performance, increase user retention, identify features to develop that customers might find useful without depending on explicit app feedback. Every action that the customer takes on the screen counts and provides valuable information about the feature, functionality or segment of the app that matters the most to the customers. 
In the post-deployment scenarios, performance analysis of the app provides essential details about the technical behavior of the app such as network conditions, hardware configuration, OS versions, etc. leveraging these details ensures better app performance.
In many cases, customers are reluctant to report issues by themselves. As a result, analytics records each customer's behavior while they navigate through the app. It helps in identifying issues that customers face or failures within the app screen without interacting with them. Based on the regular analysis, one can carry out an action plan to fix issues or failures on time.
As the emerging technologies and operating systems continuously update, the mobile app needs to be updated regularly as the constant maintenance and regular updates positively affect the app ratings and reviews.
Apple, for instance, releases major updates every year, so does Android. Sometimes, the updated mobile OS changes native framework behaviors, which results in application failure or some features stop working. For example, the recent OS updates kept changing permission mechanisms of native services like Location, Bluetooth, which can kill service dependent app features. To avoid such circumstances, release updates that will ensure the app is operating correctly.
Along with native framework behaviors, platform companies change UI guidelines as well. For example, Apple did change UI guidelines when moving to iOS 7. They replaced the skeuomorph by flat icons and translucency. In such cases, update app interface design since the old-style interface elements will look extremely clumsy against the background of the updated system and might give an impression of the abandoned or obsolete app.
Exceptional Customer Support 
According to Google, those who respond to their user reviews experience a +0.7 boost in their app ratings. Thus, customer reviews must be acknowledged regardless of whether they are positive or negative. Customers are reassured that their feedback is valuable and considered. 
Providing exceptional customer support is an opportunity to earn a high level of customer engagement. Besides, it is advisable to resolve user queries for an uninterrupted service experience across the connected environment.
Users sometimes mention the features they like/dislike and even suggest some new features to implement in the app reviews. Considering those feedback, suggestions, and demands are crucial for updating the app and guides the development roadmap in the direction that serves the target audience.
Following these ways can help you increase and maintain mobile app reviews and determine the position of your app in the market. An expert mobility solutions and services provider can build feature-rich connected applications from scratch or migrate and modernize the existing app and help boost app store ratings to meet end-customers' expectations. 
VOLANSYS can empower you to deliver enhanced customer experience with its tailor-made mobility solutions and services. Read our success story to know how our engineering experts helped one of the clients from a fortune 500 company in repositioning the IoT app with the development and customer support services. 
Our expert tech architects master the knack of providing embedded solutions, cloud services, and IoT application development services. With our "customer first" approach, they tend to resolve any issues, problems and assist customers to drive business continuity, maintain process efficiencies, and amplify customer experience. For more details, get in touch with our experts using contact us form.
Source: https://www.networkworld.com/article/3341099/wi-fi-6-5g-play-big-in-ciscos-mobile-forecast.html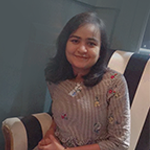 Prakruti is associated with VOLANSYS as a Technical Lead for Mobility. She has expertise in architecting, designing, and developing mobile apps for the IoT domain with native and cross platforms. She is a technology enthusiast, who truly believes in quality and perfection.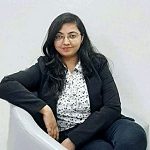 Ankita is associated with VOLANSYS Technologies as a Senior Marketing Executive. She has the technical precision, business experience and creativity to craft technically detailed write-ups with ease. She has more than 4 years of experience in Marketing.